Whether you want to stretch your legs after being cooped up in a cubicle, walk your dog or enjoy a sunset picnic, parks invite us to escape the chaos of everyday life so we can stop and smell the roses. In addition to providing opportunities to reconnect with the outdoors, healthy park systems deliver tangible benefits that every community cares about, including improved wellness, ecotourism, increased property values, new talent attraction, and cleaner air and water – to name a few.
Don't get us wrong – wayfinding programs should absolutely prioritize telling people where they are and help them
While it's tough to downplay the significance of parks, their affordability and accessibility can be taken for granted. With an endless amount of entertainment options only one click or a short drive away, parks go head-to-head with major brands to compete for consumers' attention. Furthermore, they must convince policymakers, foundations, and taxpayers that they are worthy of the funding they need to fuel programming, resources, and budgets. So how can parks strike a good balance with everyone?

People are drawn to organizations that go above and beyond to create great experiences. Simply updating old marketing materials or running a new ad campaign doesn't do the trick anymore. To cut through the clutter, parks need a strong brand to stimulate growth and long-lasting relationships with stakeholders on all sides. In this position paper, we share how a coordinated brand strategy can help parks shine, while also highlighting park leaders that have made the most of their brand journeys.
The benefits of brand building
When members of your community say your park's name out loud, what images, words, and colors pop into their minds first? That's your brand. It's the golden thread that ties all of your touchpoints – your logo, signage, brochures, maps, website, vehicles, events, communications, staff members, and culture – together. It's what people know and feel about you. It's what helps them connect the dots between their experience and your organization, and allows them to realize everything you have to offer.

On the flip side, parks that lack a solid brand platform struggle to raise awareness of who they are, what they do, and how they deliver value, leading to a fractured experience. Five Rivers MetroParks, which protects nearly 16,000 acres of forests, grasslands, farmlands, and wetlands in the Dayton region, underwent a significant rebrand in 2005 to help address some of these issues.

"We found ourselves in a position of being a respected agency, yet we lacked top-of-mind awareness of our parks, programs, events, and differentiation from parks operated by municipalities and the county," said Amy Forsthoefel, Research and Analysis Manager for Five Rivers MetroParks. "We needed an integrated brand and marketing program to change all of that."

Similarly, Wayne County Parks in Michigan needed a brand that would help them contend with other local amenities and practice what they were preaching.
Parks and recreation agencies that actively manage their brands are achieving practical business objectives that everyone, especially leadership, cares about. Here, we dig into a few of the biggest benefits of a coordinated brand strategy.
Differentiate from the competition
What is going to make someone spend the day at your park when they can walk through their own neighborhood or spend the day bingeing the latest Netflix release?

When done right, your brand sets you apart from your competitors by expressing why you're the best at what you do or the only one that does what you do, the way you do it. Whether you work on this with a consultant or on your own, your messaging and visuals should underscore the value you deliver to your audience, rather than your programs and services.
Maybe you're inspiring people to pursue active lifestyles, protecting your region's natural heritage and/or connecting people to nature. Regardless of what sets you apart, a well-coordinated brand strategy ensures that those messages are apparent across everything you do.
Establish a consistent experience
Whether you have one park location or you span multiple locations across the region, your brand should glue everything you do together. For instance, if they are attending one of your programs or hiking in one of your locations, your logo, color palette, directional signage and staff should help people associate what they are seeing and doing with your park system. This creates a sense of security and understanding, whereas fragmented brand representation can leave people feeling confused, lost and frustrated.
With multiple parks, Five Rivers staff realized that people have relationships with the specific parks they visited. However, they wanted to be sure that regardless of where their visitors were, each park was building toward a consistent experience.

"After rebranding, we had multiple sub-brands for events and facilities that needed to be pulled into the new style, and hundreds of signs and pieces of literature needed to be updated," said Forsthoefel. "We also had to change how we internalized the brand – how we talked about ourselves, how we operated and the types of services we provided. It all had to be aligned."
In addition to making sure that your locations and materials parallel your brand, another important area to address is your virtual assets, particularly your website. These days, your website is the welcome mat to your park, educating people about everything you do before they actually visit. It's crucial to spend some time and money aligning your web experience to your physical parks' experience. Guide Studio recently worked with Five Rivers Metroparks to design an engaging, mobile-friendly website that serves both the business' and visitors' needs.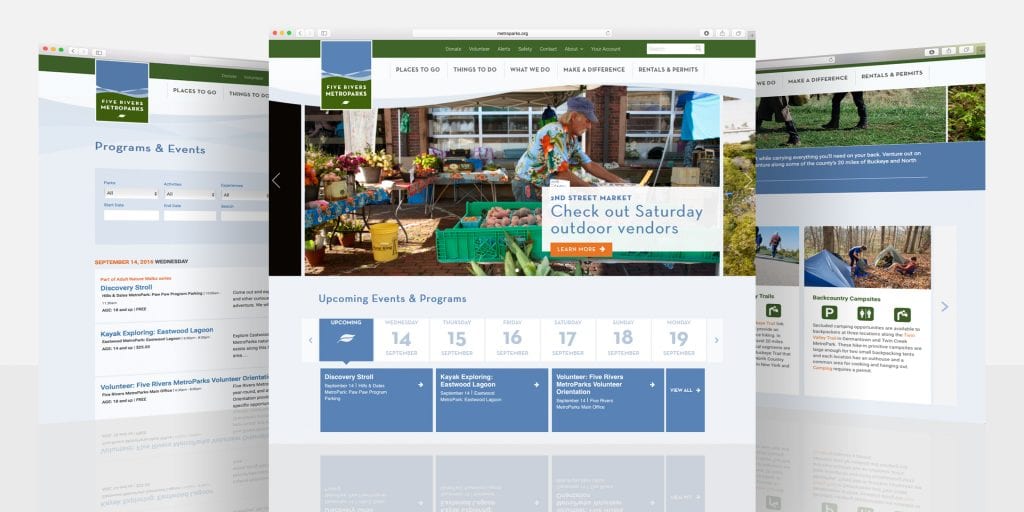 In addition to your website, here's a quick list of all the areas that need to be addressed if you're looking to establish a more cohesive brand experience across the board.
Physical
Signage
Brochures/collateral
Maps
Park vehicles
Trash cans
Staff uniforms
Customer service standards
Letterhead and envelopes


Virtual
Website
Social media (Facebook, Twitter, Instagram, YouTube, Pinterest, etc.)
E-Newsletter
Videos
Email signature
Partner websites and social media (if applicable)




Instill internal alignment & pride
Your visitors are an important audience, but they aren't the only people you need to impress. Your internal staff – from leadership to maintenance and volunteers – are the most powerful representation of your organization. They have the ability to make or break your visitors' experience with your park. Your brand can empower them to be your best ambassadors by giving them a greater sense of purpose and pride in what you're organization is trying to achieve.
The more your employees know about the brand resources available to them, the better your results will be. Invite highly engaged employees to quarterly marketing meetings so they can share their ideas about the brand, create an internal email so they can get updates about what's new and give them brand swag (t-shirts, pens, letterhead, water bottles, etc.) to help them make a more tangible connection. These activities, in turn, will help you strengthen the overall experience.
IIncrease funding and resources
While the majority of public parks' programming is low-cost or free, increasing funds (through grants and donations) and resources is important for any organization, especially those looking for opportunities to grow. Your brand can be an important tool for convincing partners, foundations and public officials that your organization is worth their investment.

"Our brand strategy is very helpful in showing that we are a forward-thinking entity looking to provide residents and visitors with a healthy park system to play in," said Iszler. "Our vision statement perfectly characterizes what we're working toward. Foundations want to see that you're making progress – that there's no stagnation – if they're going to invest in your future."

In 2014, Five Rivers MetroParks created their own foundation to help secure philanthropic funding for special projects, programming and endowment. Donors can support specific parks or all parks with charitable contributions, and the parks' brand has been instrumental in the success of this major initiative.
A roadmap for the future
As your team explores big questions about expanding into new markets, adding new programming and services, and fundraising, your brand can serve as a roadmap throughout the strategic planning process.
Wayne County Parks refers to the brand strategy as their "guiding star" as they develop the Five Year Recreation Plan (the organization's big picture business strategy), which will be submitted later this year to county leaders.

"Everything that gets added to our plan needs to measure up with our brand," said Iszler. "It guides us as we make crucial decisions about what we do today and our vision for ourselves in two, five and ten years from now."
A platform for the future
Parks are dynamic institutions that play an important, yet sometimes unappreciated or misunderstood, role in the social, economic and physical well-being of our communities. But it's difficult to minimize the worth of parks when it's evident that people are using them.

"We know our brand works because people are using our parks everyday – that's the ultimate test," said Forthoefel. "That's what we are here for. That's why we exist. The more visitors in our parks, the more people will value and protect the amazing spaces we have been entrusted to protect."
A thoughtful and successful brand can position park systems as green engines that deserve continuous investment, support and care. By utilizing the brand to exceed your community's expectations and experiences, you can secure their loyalty as well as a bright future.
---
Read more about Fivers Metroparks in this project Case Study.
Sorry, we couldn't find any posts. Please try a different search.