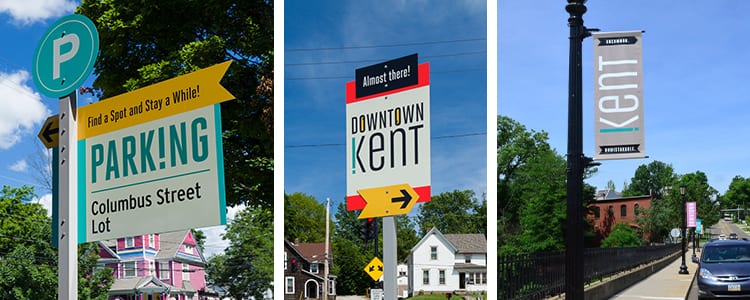 Using wayfinding to communicate your brand personality
Wayfinding signs and tools are commonly used to get visitors from Point A to Point B, but why not make more use of this extremely valuable real estate? Beyond helping people not get lost, wayfinding should be inspired by, and more connected to, a community's brand, giving people a sense of place and reinforcing its unique personality.
Don't get us wrong – wayfinding programs should absolutely prioritize telling people where they are and help them get to where they want to go. We all know what can happen when signage systems fail – we miss flights, we zoom past our exits, we're late to appointments and spend time irritably pacing up and down streets looking for our destination. But while some believe its sole purpose is to provide directions, we believe that the best wayfinding strategies transcend navigation to instill a stronger sense of place. In this position paper, we dig down into how organizations can support deeper discovery, exploration and engagement by aligning their branding and wayfinding strategies.
Avoid the mix-up
First, let's get something straightened out. Just as many people assume a brand is a logo, there are some places that confuse the design of a new wayfinding system as being their brand. Yes, the two disciplines are connected, but they are not one and the same.
Your brand is the summation of everything that makes your organization what it is and differentiates you from your competition. It's your story, your people, your culture, your visual identity and your messaging. For example, a university's brand answers the question, "Why should I choose you?" When students decide to visit campus, they expect a certain experience based on everything you've communicated thus far. Upon their arrival, any uncertainty about where they are or difficulties in finding parking, key facilities and nearby accommodations will make them question not only their decision, but also your brand. This is exactly where wayfinding comes into play.
Wayfinding connects various verbal and visual elements of a physical environment, including space, maps, directions, architecture, landscape design, symbols, colors and logos, to remove ambiguity from the DURING stage of the Engagement Loop. When visitors are happy and well-oriented, they are likely to spend more money, plan return visits and sing your praises to their family and friends, which in turn, boosts the overall brand experience.
Start with Brand
While directional messaging and symbols are always going to be important, especially when visitors arrive and exit, connecting the brand to a wayfinding system provides an added level of benefits and purpose to otherwise generic signage. In addition to its basic functionality, branded wayfinding can introduce personality, storytelling and opportunities to capture the moment, contributing to deeper relationships between the place and its audiences. Whenever we kick off a new project, we always start with the brand. We love digging into our client's historical, physical, cultural and social features to see how we can incorporate materiality and context to express the uniqueness of a place.
A Case in Point: Initially, City of Kent leaders engaged Guide Studio to help them get visitors from the city's parking lots and garages to various downtown hot spots more easily. It was a practical goal, but they needed to do more to engage people in everything the city had to offer.
"We wanted to instill a sense of 'you have arrived' when people walked or drove around the city," said James Bowling, Superintendent of Engineering/Deputy Service Director at City of Kent. "To do that, we needed to strengthen the connection between all of our amenities – accessible parking, restaurants and shops, historical buildings, fun nightlife and nearby Kent State University. Simply putting up signs near parking wouldn't cut it."
Guide Studio channeled the city's brand essence when designing the new wayfinding program, tying everything together under a common theme, "Kent Speaks," which embraces the city's unique history and personality. On top of the necessary navigation icons and messaging, they developed a vibrantly colored banner system that promotes downtown's greatest assets, such as "Eat Yummy in Your Tummy Dining", "If It's Too Loud, Your Too Old Music Scene," and "Shop Til' You Drop Shopping." The design team also took advantage of underutilized street poles by putting up playful signs that read things like, "You are Beautiful!" and "High Five a Stranger." They even included signs for dogs (at dog level) that say, "Attention Dogs – Please make sure your owner is attached by a leash." Of course, there are signs for dog owners, too, reminding them to, "Please make sure to pick up your dog's waste."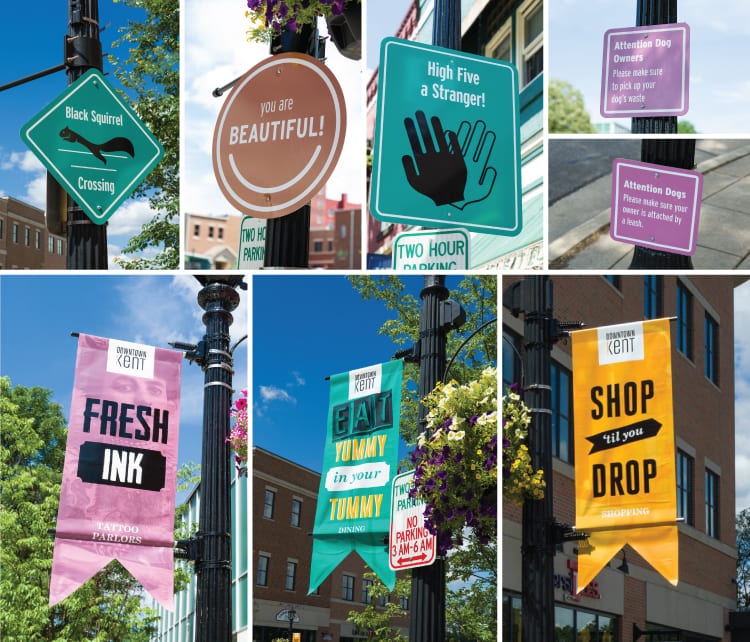 "Some of the messaging is completely unexpected, like the signs for dogs, but it adds an element of surprise, giving people reason to stop and appreciate the environment we've created," said Bowling. "We've always had a welcoming atmosphere and lots of things to do, but now our wayfinding accentuates our best qualities."
Whether you're looking to create a new wayfinding system like City of Kent or update the existing one you have in place, it's critical for your brand to be fully developed before you get started.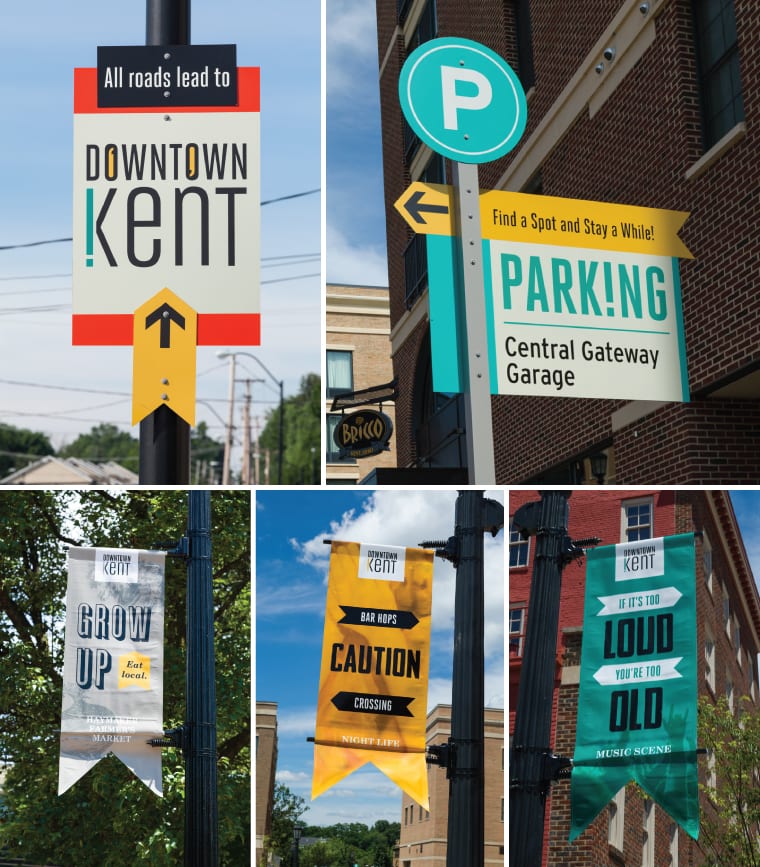 Reimagine Your Space
If you're ready to brand your wayfinding, think beyond adding your logo and colors to your signs. Take a more holistic approach by considering all of the critical touch points throughout your environment, including your gateway signs, crosswalks, tour guides, information desk, vehicles, seating areas and more. Even trash cans, the backs of signs, uniforms, light poles, windows and doors, etc. should be fair game. How can you enhance these elements to support a more brand-aligned experience?
Beyond infusing some humor and quirkiness into their signs, City of Kent wanted to honor the town's history through their wayfinding system. They worked with the Kent Historical Society to put together stories that were placed on the backs of pedestrian kiosks.
"We used one side of the kiosks for maps and the other side to highlight significant moments and people that have shaped who we are," said Bowling. "I wouldn't normally think to use the back of a sign or kiosk, but I see people reading them all the time, which tells me that we've made walking from one destination to another an experience in itself."
As wayfinding continues to evolve, many businesses and communities have found creative ways to convey their brand throughout their physical environments. If you're in the market for some new furniture, take a trip to the nearest IKEA and notice how their unique signage system not only directs you to different sections of the store but reinforces their budget- and family-friendly brand through icons and fun messaging. When you go to an Apple store, you're always greeted by an associate in a blue shirt who can help you navigate your way to the latest and greatest device that meets your needs. And if you're a baseball fan, take a trip to Cleveland's Progressive Field to see how the stadium's recent renovations are emphasized through a new, comprehensive wayfinding system that evokes the city's industrial history and team spirit. (Read more about the stadium's wayfinding in our Progressive Field case study.)
Is your organization ready to step up to the plate?
Just be yourself
We live in an age when people have become highly sensitive to user experience. Websites and mobile applications have introduced us to sophisticated navigation, layouts and imagery, making us all self-proclaimed design aficionados. As a result, our expectations for our physical environments are even more heightened, leaving little room for sub-par design and poor navigational support.
While that may sound a little intimidating, keep in mind that the synthesis of your brand and wayfinding should be a creative exercise of just being yourself. Not only is that one of life's most important lessons, but places can, and should, reflect the history, people, aesthetics, stories and personality for which they are known. What's the fun in looking like everyone else when you can stand out from the crowd. Giving visitors the opportunity to get to know the real, authentic side of your place will make them appreciate you even more.
---
Talk to our team about your wayfinding and branding needs for your place.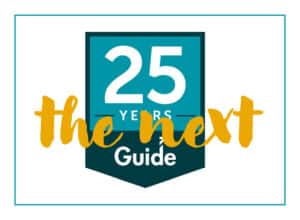 The Guide Studio team is comprised of lifelong learners – a group…
Read More >>