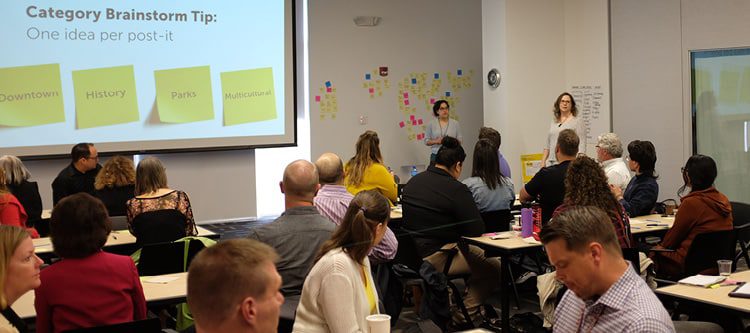 At some point or another, many communities and organizations embark on a branding or rebranding effort. Some take this step because they want to free themselves of their outdated, chaotic identity. Some want to reflect a new direction, while others seek a refresh to stay relevant. Regardless of the reason, a new brand opens the door to many opportunities and a reinvigorated sense of purpose. That said, the success of a place branding depends on a variety of factors — but one of the most important is stakeholder buy-in.
By nature, brand development is a high-profile effort, not to mention resource intensive. That's why it's critical to align key audiences (city council, businesses, residents, economic development groups, etc.) about the process, clarify their roles, and secure their support.
A shock to the system
Having developed brands for many communities, it's evident that buy-in is either the roadblock or the gateway to a smooth transition. These initiatives raise eyebrows for a few reasons, including:
Lack of communication about why you're branding or rebranding
Nostalgia for an old logo and traditions
Budgetary concerns (i.e. "shouldn't our tax dollars be used elsewhere?")
Desires to maintain departmental or individual brands
Simply put, it's a shock to the entire system. This is especially true if stakeholders feel it's coming out of left field or being forced on them without input. An issue that further magnifies the situation is if an organization lacked a well-organized brand and individual leaders and departments go rogue in the effort to create clarity and consistency. Any change to the current paradigm causes frustration if they don't grasp how a system-wide rebranding effort benefits their interests.
So how do you gain their enthusiasm and engagement for your rebrand?
While we have many ideas ourselves, we asked a couple of our client partners to share their two cents on gaining audience buy-in.
Strategy #1: Start a brand steering committee.

It's not smart to rebrand within a silo. We recommend inviting a diverse group of people to the table to weigh in on current perceptions and future direction. "We sought out individuals who represent various factions of the community – public officials, businesses, leading anchor institutions like John Carroll University, and residents with creative backgrounds," said Mayor Michael Brennan of University Heights. "This collection of perspectives brought tremendous value to our process."
While reaching a consensus with so many people at the table is difficult, you ultimately land on a more unified final product. Best of all, this committee becomes your built-in brand champions when it's time to implement.

A well-informed rebrand process starts with these stakeholders:
Businesses
Chamber of commerce
Convention and visitors bureau
Public officials
Key staff
Residents
Real estate & economic development groups
Universities, community schools, and other community anchors
If you're unable to get a commitment from all of these folks, ensure you have a strong foundation of residents, businesses, and leadership on your committee, at a minimum. Invite those unable to participate on the Steering Committee to participate in additional workshops, focus groups, or surveys to keep them involved without asking for too much of their time.
Strategy #2: Shift your mindset.
Many people enter into a brand development initiative, assuming it's all about getting a new logo. But we take a different approach. "With Guide Studio's encouragement, we reframed our mindset, viewing this process as a rediscovery," Mayor Brennan says. "It's an exploration of who we are and what we offer. The logo and other assets come second." David Efland, Planning and Community Development Director for the City of Delaware, adds, "It's about looking at ourselves more evocatively — rediscovering words, expressions, and emotions behind our brand. Trust the process, and the design unfolds from there."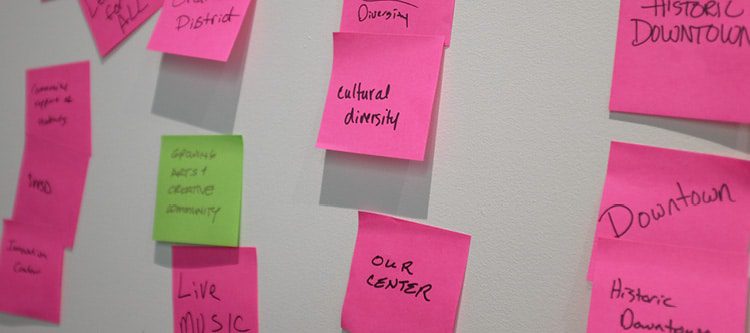 Strategy #3: Avoid trying to please everyone.
While you want to create a brand that excites people, you shouldn't walk into the initiative feeling like you must reach an immediate consensus.
"We didn't put our brand design up for a popular vote," said Mayor Brennan. "We wanted to avoid unnecessary division and unmanageable feedback, so we left the decision-making to the steering committee. After a few rounds of design, we shared what we liked and disliked and ended up with a brand that people were proud of."
Working with an external consultancy and stakeholder-based steering committee adds trust to the process. Efland adds, "Our constituents had sunk their teeth into our old brand…we had many departments creating their own sub-brands. But once we exposed the inconsistencies and educated them about a better way, it was easy to win their support."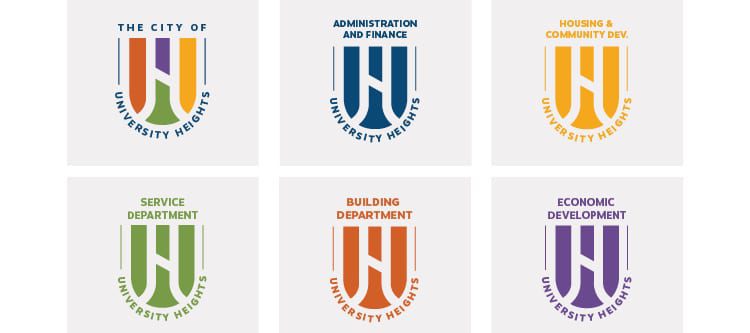 Strategy #4. Make it tangible.
The work isn't over once you have brand tools in hand. Until then, it's just a plan on paper. You really build excitement during the implementation phase.
"After unveiling the brand to the community, we got a new city flag, facility and transportation signage, etc., so people could see it," said Efland. "It wasn't just a myth anymore. It was a real, living, and breathing asset."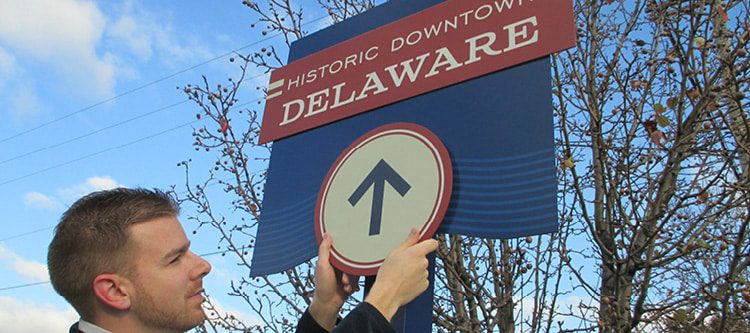 Help your community understand the brand by showing how it's expressed across your physical environment, website, social media, and other communications. This builds credibility for the concept and helps you expand your vision.
The City of University Heights even created some swag to instill newfound pride. "At our civic awards dinner, we distributed goody bags filled with brand items – keyrings, water bottles, mugs, and more," said Mayor Brennan. "They were so popular that we made them available to everyone in the community."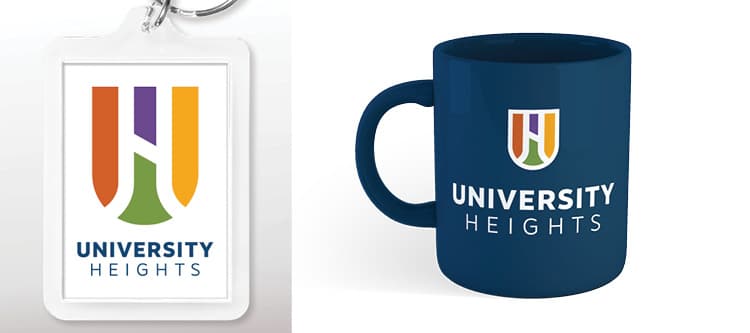 Strategy #5: Enforce strong brand principles.
While you want to sustain strong momentum for the new brand, you also want to prevent people from corrupting it.
"Never underestimate people's creativity," said Efland. "You must maintain some guardrails to prevent people from going too far. Otherwise, you're back to where you started." Work with your consultant to develop guidelines that help the organization protect brand integrity. "Brand education and policing shouldn't stop," said Efland. "These activities need to be ingrained in your system and communication. We want to keep moving forward, not backward."
It's a battle you can win
Sometimes, a new brand can feel like an uphill battle for internal teams. This is largely due to a misalignment of vision and strategy – people with different agendas have different ideas about the "right" direction. But, many of these steps curb the potential turbulence and smooth the way for a rewarding rediscovery of your community.
Sorry, we couldn't find any posts. Please try a different search.