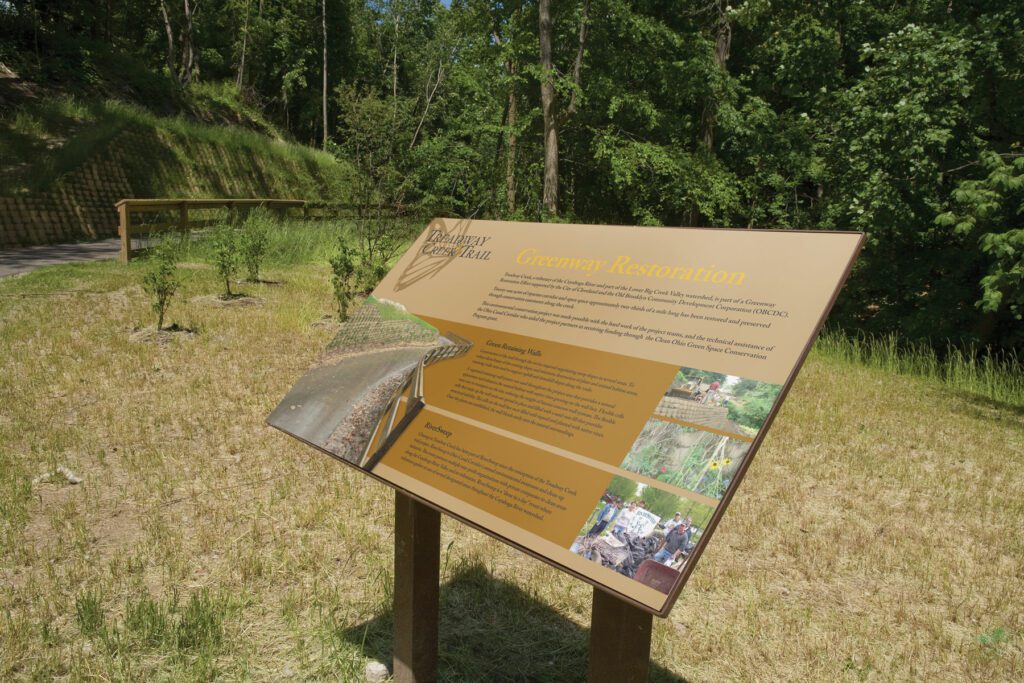 Q&A with Certified Interpretive Planners Nancy Desmond + John Veverka
One of the things we love about Brands is their ability to tell stories—helping people connect to organizations, products and places. Interpretive Programs dive even deeper into the function
of storytelling. An Interpretive Program, as it relates to environmental graphic design, is a system of signs, graphics and other visual elements that share short stories reflecting on the history, people, culture, ecology and architecture of a place.
---
Once consigned only to parks and historical sites, interpretive programs are also successfully being implemented to direct visitors in how they experience "place." Programs can range from urban, art and architecture walks to presentations about reclamation and sustainability efforts.
As environmental graphic design consultants, also known as experiential graphic design, we are responsible for the visual interpretation of these stories through compelling graphics, intriguing structures, and informative signs. However, before the story is written and the images are placed, an Interpretive Planner and Writer are needed to clarify the purpose, structure the theme and story, verify information and help it all make sense in a cohesive program for your place or space.
Guide Studio interviewed Nancy Desmondfrom the Cleveland Metroparks and John Veverka of John Veverka & Associates, two of our Certified Interpretive Planning partners. We discussed with each of them how their work has changed and expanded in recent years as well as the value Interpretive Programs can provide communities.
Q. What 'types' of places typically institute interpretive programs? How has this changed or evolved in the last 5 years?
A. Nancy: Many people may see interpretation as the story of historic buildings or a beautiful park. Recently the vision has expanded in terms of what is deemed valuable. There seems to be an awakening in our area (Northeast Ohio) to the variety of resources we have and how they play a part in who we are as a community— embracing the things that give us identity, such as places or events. The purpose of interpretation is to connect people emotionally and intellectually to the resource. These types of stories can inspire a lot of pride. For example, seeing beyond the historic building or the beautiful park to what makes Cleveland, Cleveland — such as the scale of industry developed along the river. It may not be pristine or pretty, but it is still vital to the identity of the city and its place in our world.
The notion of what messages are important has also expanded beyond museums and park borders, exploring public spaces and public art, why a building is a LEED® certified building, and what it can mean to the future of our community.
A. John: In the last couple of years, there has been an increase in Community Interpretation. A town or a village may hire an Interpretive Planner to develop walking tours or work to create outreach programs that focus on the natural or cultural history of the place. These programs are used as a way to increase marketability for a community; to get people to spend more time there because of the 'experience' of learning about a new culture or a site's history. Interpretation has also found its way to becoming an economic driver — an incubator for community businesses. These places are developing programs that create links to their other amenities such as multiple heritage sites, restaurants, shops, parks, etc., so the experience is expanded. We have found that for every dollar you spend on interpretation, you can potentially get $3-4 back in benefits — in physical dollars, marketing dollars, and public relations dollars.
Q. What are your top three criteria for an interesting and successful interpretive program?
A. Nancy: The simple answer is called the 'So what?' principle. How does your story connect to people; why does it matter to others? How does it connect to larger more universal messages, whether it is family, work, life, or death — these larger experiences that we all go through? For example, interpreting the efforts of LEED® Buildings are not just about identifying the type of solar panels, but about the efforts to sustain the environment we all live in. So when you are thinking about doing an interpretive program, whether it's a sign or walking tour, the important thing is not why it's important to you or your organization, but why it matters to everyone else.
A. John: First and foremost, a place has to have a story. What do you want people to know, learn and experience? Second, we look at the type of audience you can sustain and the capacity of the site. An average heritage tourist could spend $150 for a day visit between gas, parking, food, admissions, etc. Is your site worth a person's $150 investment? Most places don't have the capacity for that type of day visit. We've found that the economics of the experience is the third element that is necessary for success. Partnering or creating experience links is a way for communities and heritage sites to 'package' their amenities to draw out the day visit to several sites vs. just one site. In Rockford, Illinois we created a pass program to extend the stay of visitors in that community. For $25 dollars they got passes to 5 different museums, turning their $150 experience into $200 worth of day trip benefits.
Q. Why is it important to hire a professional planner? What type of clients/teams do you typically work with?
A. Nancy: We have the training to help clients connect their stories to the 'bigger picture.' We can format within your story the larger theme that makes for compelling messages. Many people are not aware that there is a science behind interpretive design. Interpreters have an understanding of what themes provide the strongest impressions, how many words a person is going to read, and what images people will connect with. These 'themes' are important to helping people connect to and remember the story.
Along with the skill sets brought on by the Interpretive Planner, the Designer and the Client are a crucial part of a successful Interpretive Project Team. The Designer brings useful and beautiful layouts, the planner provides the message and the Client brings the story. Without all three, the program fails.
A. John: In the case of Interpretation, you want to have a 'Certified' Interpretive Planner. They would most likely have a college degree in Interpretive Services that would include studies in not only interpretative planning, but also feasibility of interpretive services, marketing, advertising, and fact-based areas such as history, zoology, etc. These learned skill sets along with professional field experience will allow them to develop a well-rounded program instead of just telling a story.
We can also help address issues of program feasibility or maintenance. After a committee puts together an interpretive program, will someone be there to refresh the story over time? Who will replace it if it is damaged? Is there a person available to maintain the program? Is money available to market it? Having a Certified Interpretive Planner to address these issues and set parameters is a huge benefit for the sustainability of an Interpretive Program.
We like to work with clients that have the financing to create a solid program as well as a long-term commitment to maintaining the program. We look for clients that have 'sweat equity' in the Interpretation of a site — those who are an integral part of the planning team and show a commitment for developing and sustaining the program. When we start a project, we always include a training workshop for the client and volunteers. This introduces them to team member responsibilities as well as the process they will be exploring to develop the interpretive program. The more educated the client is about the process, the more invested they become.
Q. How important is the role of the Design Consultant in a strong interpretive program?
A. Nancy: The best Design Consultants pay close attention to what the Planner and Client want, and respond to it. They don't impose their opinions on the story, with the exception of applying their best professional practices to how the viewer will respond to the visual interpretation of the information.
It's a careful collaboration within the team.
A. John: A good Design Consultant has an understanding of how people visually learn and remember. You can have a good story, a great plan, but without the great design, the plan can fail. We like to have our design team members involved in the early planning phase so that they are a part of learning, developing and understanding the objectives and outcomes of the interpretive program. This also establishes smooth communication between the 'concept' of the program to the design of the program.
About the Interviewees
Nancy Desmond, Certified Interpretive Planner and Certified Parks & Recreation Professional
Nancy Desmond is a Certified Interpretive Planner and Certified Parks & Recreation Professional. She started her career over 25 years ago in house museums and living history museums, later moving into parks & recreation. She has a B.A. in history and an M.A. in American studies. Nancy has worked for Cleveland Metroparks for over 15 years and worked with Guide Studio while she was providing Interpretive Coordination support to the Ohio & Erie Canalway, a national heritage area.
John Veverka, NAI Certified Interpretive PLanner, Certified Interpretive Trainer, and Certified Professional Heritage Interpreter (Canada)
John Veverka is an NAI Certified Interpretive Planner, Certified Interpretive Trainer, and Certified Professional Heritage Interpreter (Canada). He received his B.S. and M.S. degrees majoring in Interpretive Services from the Ohio State University and spent 4 years in the Ph.D. program (Parks and Recreation) at Michigan State University majoring in Interpretation, where he also taught the introductory and advanced interpretation courses. While at Ohio State University, John developed and taught a senior-level "capstone" course in Interpretive Master Planning. On average his team works on about 5-10 interpretive planning projects each year, ranging from historical sites to nature reserves and everything in-between. John is the author of the college textbook Interpretive Master Planning and teaches/lectures on interpretive planning worldwide. Guide Studio recently had the pleasure of working with John on the Interpretive Placemaking Plan for the Village of Somerset, OH.
---
Sorry, we couldn't find any posts. Please try a different search.