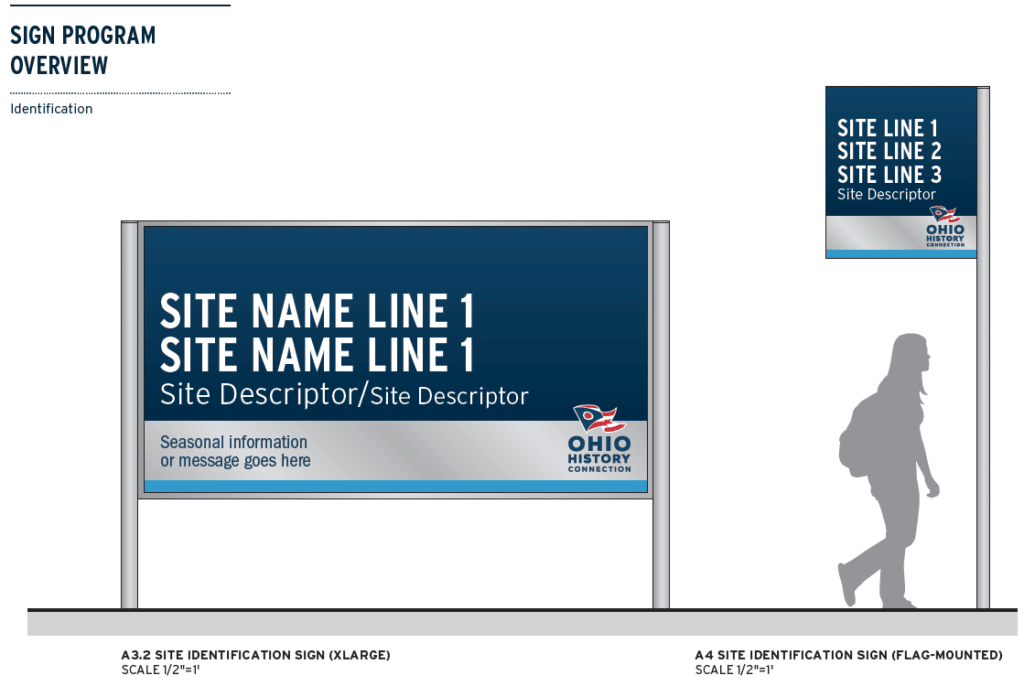 Ohio History Connection (formerly The Ohio State Archaeological and Historical Society) has been stewarding Ohio's stories for over 130 years. They have worked to preserve over 50 historic sites and museums statewide, a selection that includes the Serpent Mound and an Underground Railroad that shepherded freedom-seekers on their escape from oppression.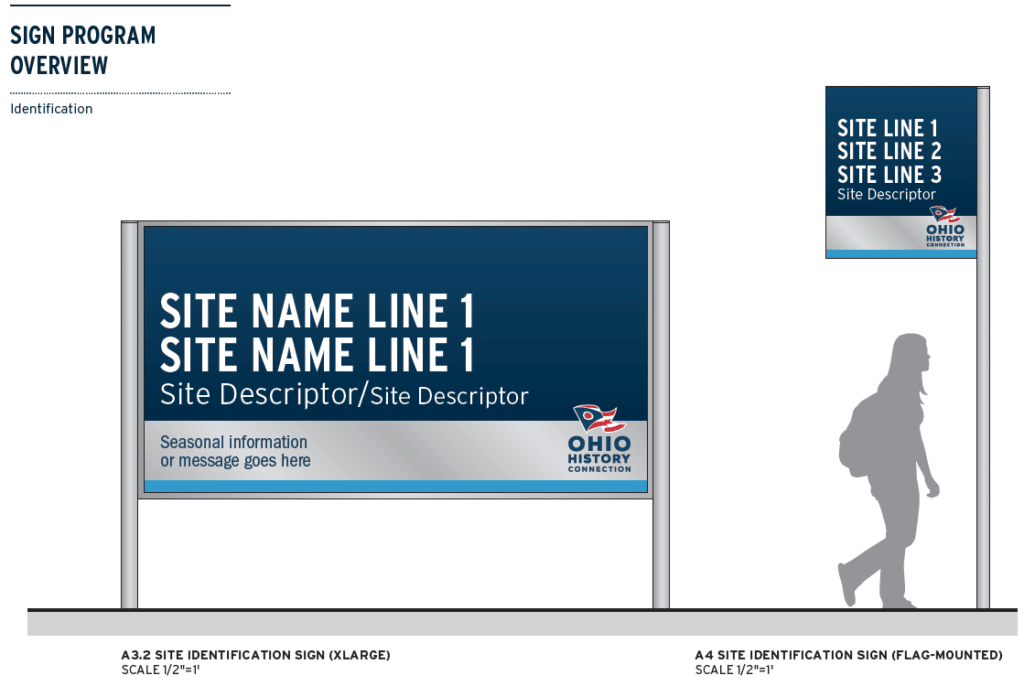 The "Ohio Historical Society" rebranded to "Ohio History Connection", and with most rebrands, the name and visual identity needed to change on all their site and facility signage. "Anytime you're changing your identity, signage is one of the first things you'll want to change as a place or destination," says Guide President Cathy Fromet. The organization admitted that they didn't have a good set of existing sign standards and admitted that their sign programs varied from site to site. The rebrand gave the organization the opportunity to create a new sign design and create a set of sign standards and guidelines to ensure brand consistency throughout the state.
One of the bigger challenges was the sheer number of sites, site types, who maintains them and how they are maintained. While the nonprofit managed the larger system of historic sites, it also tasked various agencies with supervising individual destinations. These parks, nonprofit groups, recreation departments and visitors' bureaus took it upon themselves to implement signage on their own, leading to a system that lacked quality and consistency. Signage may not have been top of mind for groups focused on site preservation, but a poor sign program could harm the Ohio History Connection brand, notes Cathy.

"Branding brings a level of professionalism to your image," Cathy says. "When that's not demonstrated in the way you communicate or in how your signage is presented, people will make their own opinions. Signage helps welcome you and how those signs look and what they say tells you a lot about how these sites are being cared for as well as the quality of the organization and experience."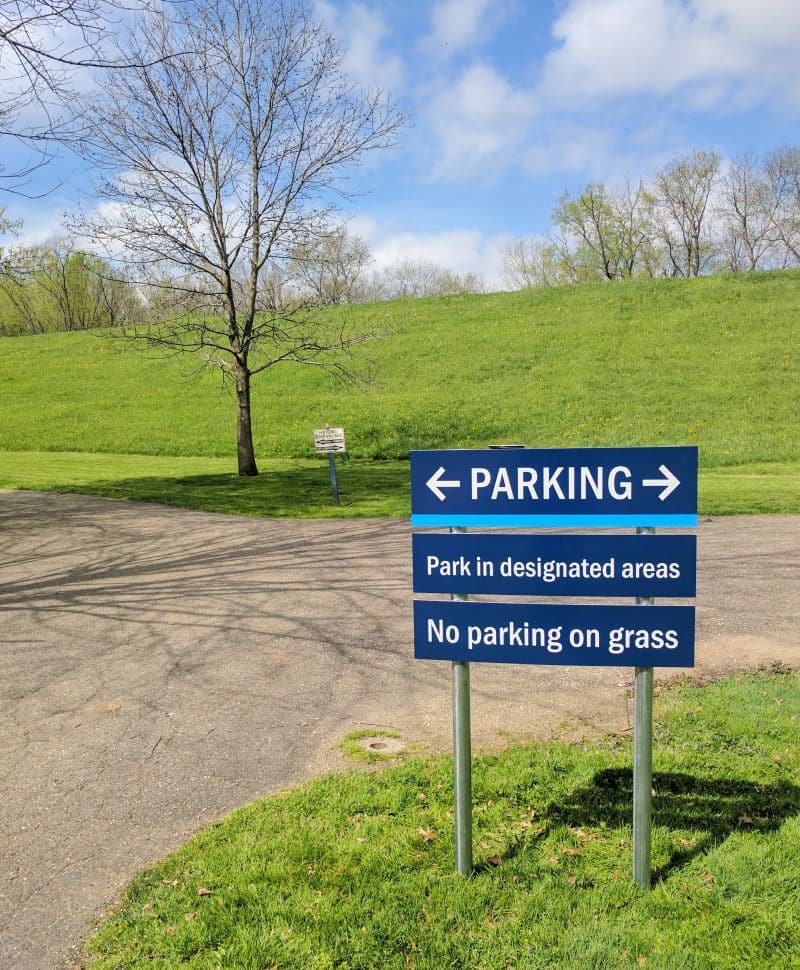 Guide developed an affordable and consistent signage system that could be used at all the sites, regardless of whether it was a museum, park or archaeological site. A reliable sign standard helps represent the brand while maintaining message uniformity, giving site managers an understanding of how to build or update signs no matter the situation. Replaceable panels give them the ability to change out damaged sign faces or out-of-date messages without having to build a whole new sign.
Guide audited the main site/facility types such as museums, roadside parks, nature preserves and historical sites to inform the creation of a full sign family that could be used across the state. Written instructions on how to implement signage at each site/facility type were included in the guidelines. "Narrowing it down to the examples of their main site/facility types was a great way to manage a large volume of sites and ensure that we had a standard for all the sign types they would need," says Cathy.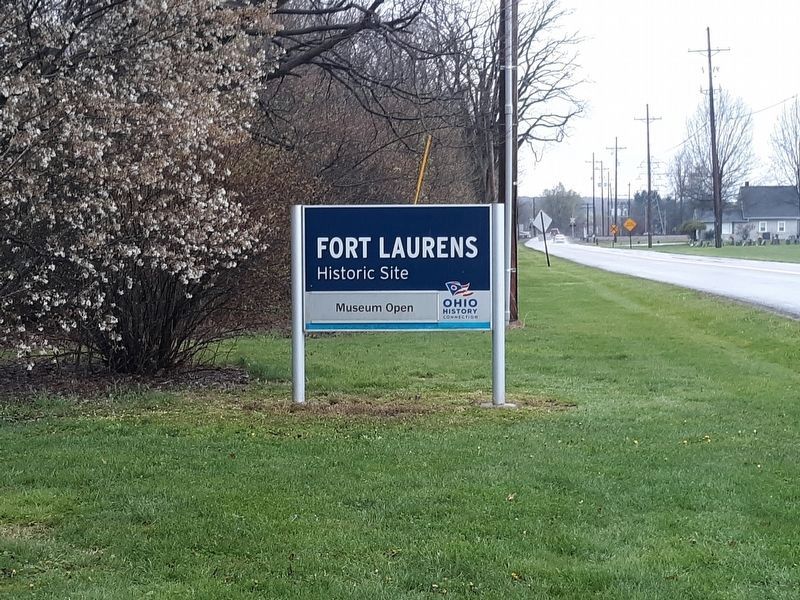 The program also demonstrates Guide's skill at building a substantial signage program for organizations with multiple locations, one that was flexible and cost-effective and would allow the client the ability to manage maintenance and updates to the signs themselves.
The Ohio History Connection project launched Guide into developing more large-scale, complex sign programs for large campuses with multiple sites. Hospitals, parks and college campuses have all worked with the studio on creating easy-to-navigate places that create a positive impression for the visitor.
Sorry, we couldn't find any posts. Please try a different search.