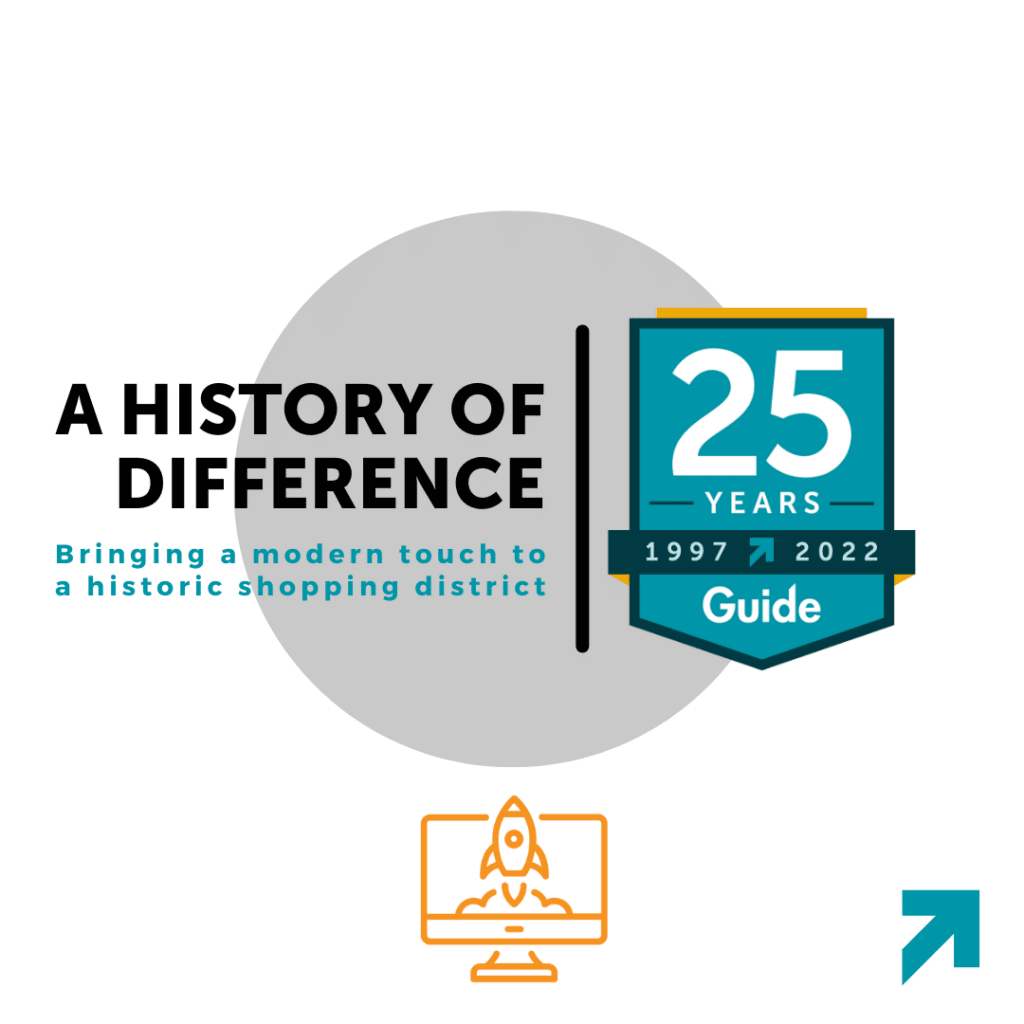 Landmark athletic facilities are a crucial part of life in Ohio, a culture that Guide Studio has embraced during our 25 years in operation. Guide has helped area sports teams direct fans to their seats while providing clear and concise brand messaging.
Classic Park in Eastlake hosts the Lake County Captains, a minor-league affiliate of the Cleveland Guardians. Along with baseball, the facility hosts concerts, football games, and other events. Stadium officials brought in Guide (formerly Studio Graphique) in 2002 to build a sign system based on historical images of baseball in the early 20th century. Following an evaluation of signage and wayfinding needs, Guide devised new parking lot and entry gate signage, as well as waterproof signs for suites, ticket windows, concourse concession stands, and other public areas. A new number sequencing system, meanwhile, served to better navigate fans around the park. Although Classic Stadium marked Guide's first sports-related project, our staff embraced the unique challenge. "It was an opportunity to have a little bit more fun while understanding you have to get people where they need to go," says Creative Director Gina Gerken. "The project also laid the foundation for working with these types of venues going forward."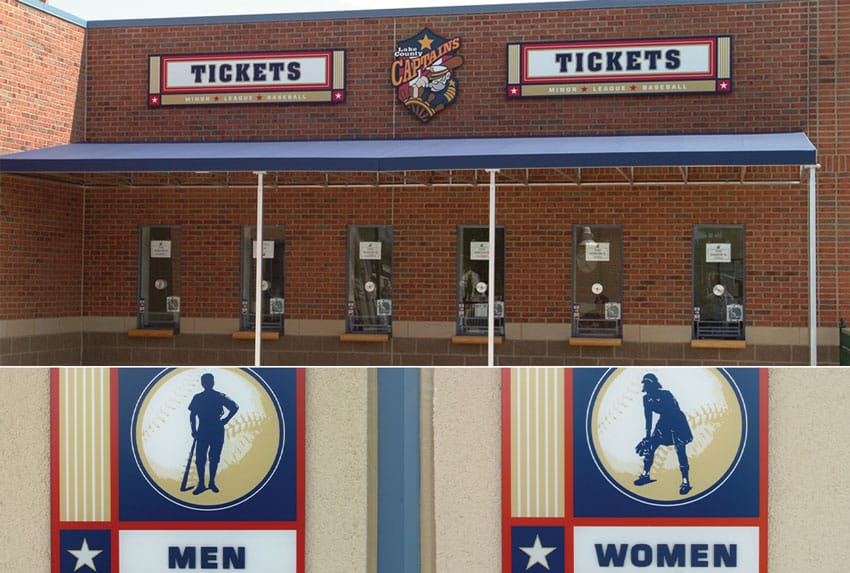 Toledo-based Huntington Center is part of a multi-venue stretch of downtown that includes a baseball field and convention center. In 2007, working with the design teams of HNTB Architecture and The Collaborative, Guide developed a sign program for the 10,000-seat arena, home of the Toledo Walleye hockey team. To match signage with architecture and interior décor, we suggested metal sign construction and an acrylic finish that resembled blade and ice.
Guide President Cathy Fromet says the design pays homage to franchise tradition alongside the sport of hockey.
"Working on these projects pulls together our branding and wayfinding skill sets. We're looking at how comfortable the experience is for visitors. How are people feeling when they come to a place for the first time?"
Projects like this also highlight how Guide's skill sets to support the environments designed by Architects and Planners, allowing us to enjoy lasting partnerships. In 2021, Guide resumed their relationship with Lucas County, and The Collaborative to update the signage and wayfinding program for a renovated SeaGate Convention Center (next door to the Arena) – now named Glass City Center.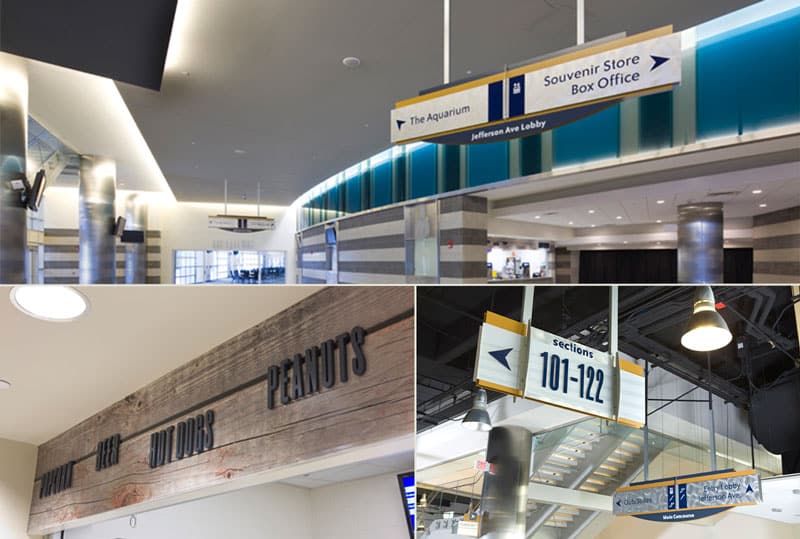 Progressive Field is a fan-friendly stadium offering visitors an intimate baseball atmosphere. During a multimillion-dollar renovation of the park, the Cleveland Guardians tasked Guide with completing a new wayfinding and signage system.
Guide worked closely with Weber Murphy Fox Architects and the Guardians' staff on incorporating team colors of red, white and blue into directional signage. Additionally, social areas like a two-story bar in right field incorporated salvaged bridge materials to match Cleveland's gritty industrial nature. "We wanted to bring character into the design, and make signs that added to a fun, lively environment," says Guide Senior Wayfinding Consultant Kevin Fromet. "The team colors popped against the industrial-looking I-beams and metals."
Previous Progressive Field signage included names of local streets, a problem for visitors unfamiliar with downtown Cleveland. Guide flipped the focus from outside to in, designing signage around in-stadium locations. "Instead of calling it the East 9th Street gate, why not call it the Right Field gate? Now everyone walking around the stadium won't be confused as to where they're going." Ticketing was able to pick up the new gate naming directive and make it easy for visitors to find their way by locating the gate close to their seats.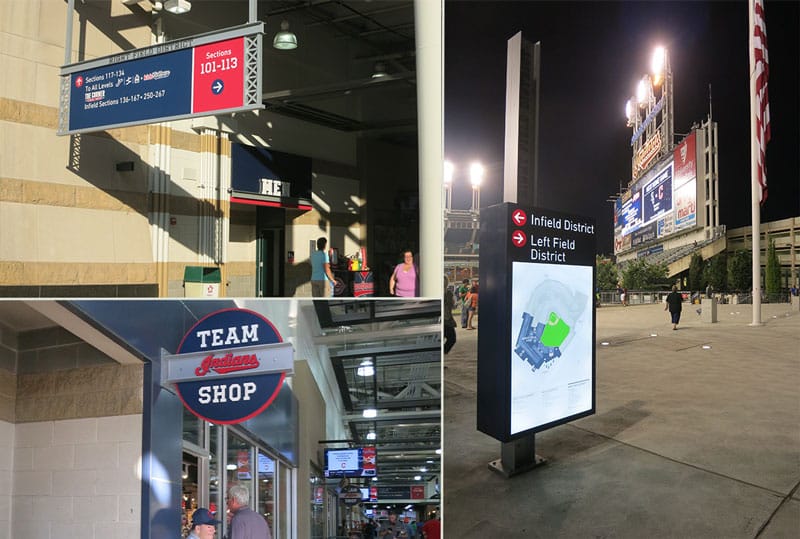 Sorry, we couldn't find any posts. Please try a different search.