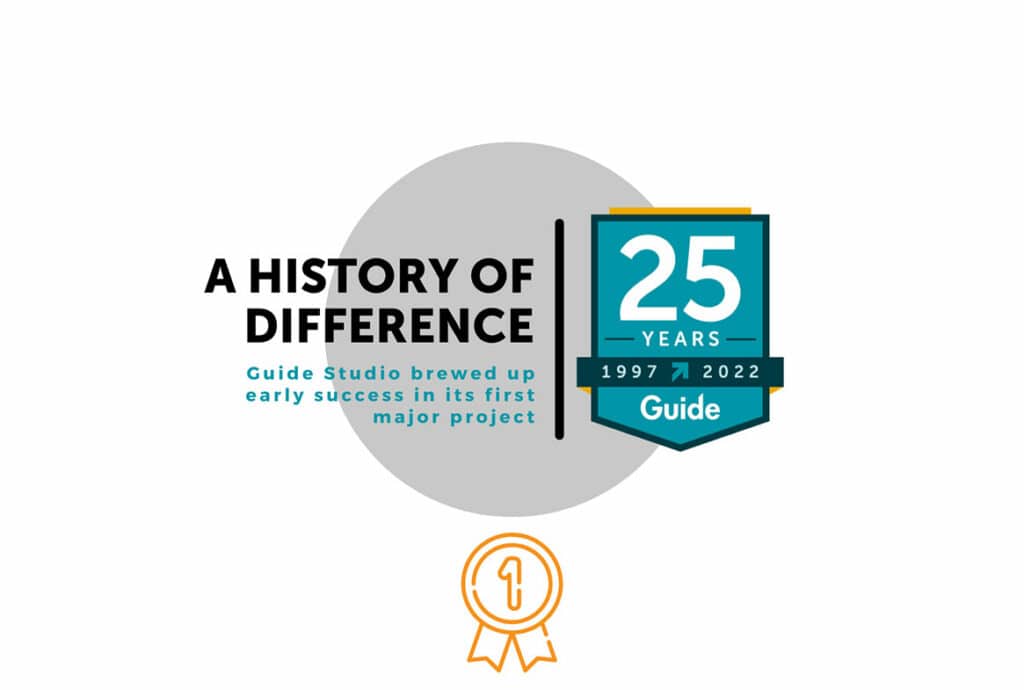 Since 1997, Guide Studio has compiled an impressive portfolio of clients. Progressive Field, Heinen's, the University of West Georgia, and cities throughout Ohio and beyond have all utilized Guide's comprehensive suite of branding and wayfinding consulting and design services.
Guide's very first partnership was with Willoughby Brewing Company, which tasked the studio with creating a clear identity system alongside new packaging, print collateral, and environmental graphics. Rachel Downey – who founded Guide at age 25 as Studio Graphique – remembers being part of the fledgling restaurant and brewery team from its very beginning.   
"The brewery at the time was being built from scratch. I worked directly with the architect and interior designer to coordinate the look, feel, and experience of the space. Although we were both new founders, we had good people around us that had invested in us." 
While working as an in-house graphic designer at Steris Corporation, Rachel was invited by a pair of former colleagues to start the business which became Studio Graphique. The new owner designed her logo and letterhead at the same time she was working with her first client.
"I had to create something new for my company every time I did something for the brewery project. I didn't even have a fax cover sheet."
Performing double duty didn't stop Rachel from giving Willoughby Brewing Company top-notch marketing and design services. Over the project's four-month span, she designed everything from table tents and menus, to tap handles, uniforms, and merchandise. Custom-made interior signs, meanwhile, contributed to the ambiance of the brewpub dining experience.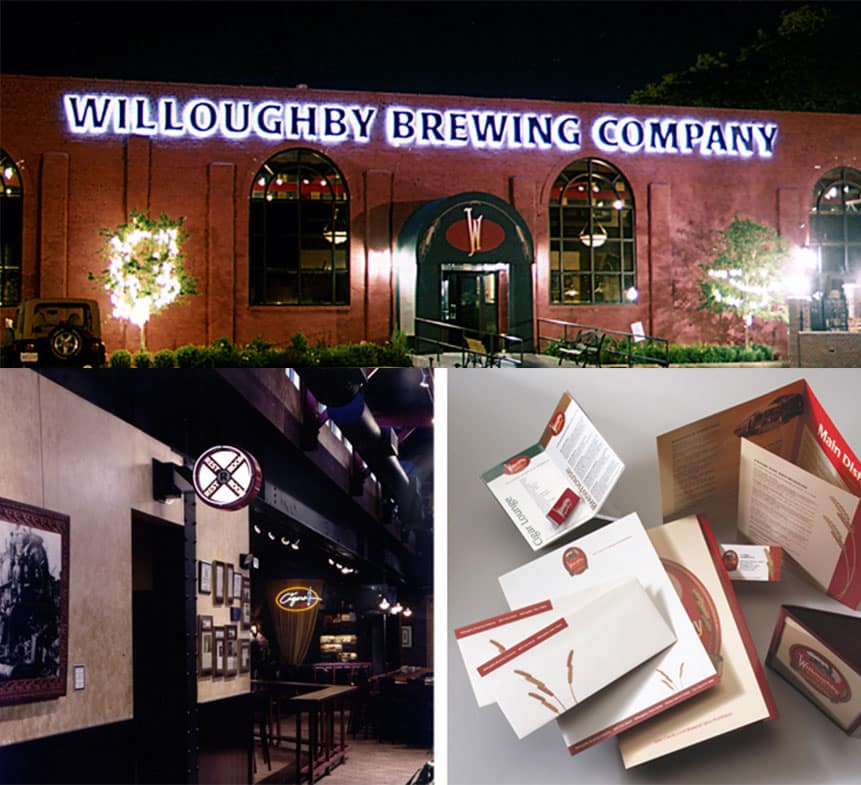 Rachel, who hired her first employee two years into the studio's lifespan, operated during those early days above an auto body repair shop. Although the space sometimes smelled of paint fumes, the young entrepreneur was thrilled to be working her first big job.
In those early days, Rachel also wanted to help develop engaging environments appreciated by every brewery customer. She especially enjoyed creating signage and proudly recalls designing two neon signs produced in her handwriting. "Given that the brewery project was all-encompassing, it helped solidify what I wanted to do and the business I wanted to build. I learned from every mistake while getting to chart my own course. I had the opportunity to do it my way from day one."
The relationship with Willoughby Brewing Company would endure in the form of new marketing work, updated menus, new signage, and refurbished apparel. Just as crucially, the job gave Rachel a perfect portfolio piece for her growing studio, as well as a timely dash of confidence.   
"I knew in college that I'd start my own company, I just didn't think it would be at age 25. The brewery project showed me this was more than an experiment  – this could be a career. Even though I didn't have confidence in some areas, I relied on the fact that I was not going to fail. Whatever it took to do a great job, I was going to do it." 
Sorry, we couldn't find any posts. Please try a different search.