Wayfinding Support for Architects and Planners
Despite the powerful relationship between architecture and wayfinding, we've all seen examples of places where the connection falls short. Sometimes there's too much wayfinding, causing visual clutter and overwhelmed visitors. Other times, there's not enough wayfinding, and people are left feeling lost and frustrated
---
Nobody wins when the end-user experience disappoints, so it's important to be particular about the partners supporting your project.
Working with our team
There's always a lot of questions about working alongside another consultant. Will they bottleneck our process? Will they be a team player? How will my role be impacted? And, of course, Why can't I just do this myself? Trust us, we get it.
We want to take the guesswork out of working with our team. Here are the top 10 ways Guide Studio can help you enhance the architectural experience.
Users influence everything we do.
Our Design with Direction approach always starts with the end-user. We dig into their challenges and needs, and analyze the entire experience, from start to finish, so we can consider all of the variables needed for a successful wayfinding journey.
We get started from the start.
When wayfinding is left to the final stages of the project, it looks and feels like an afterthought. We like to be involved as early as possible to ensure wayfinding cues blend with the function and design of the space.
We follow your lead.
While we are confident in our experience, we realize you know the needs of the space better than anyone. We'll share some different ideas and perspectives based on our understanding, but, ultimately, we follow your direction.
We support (and contribute to) brand.
A place's brand – its visual and verbal identity – always influences our wayfinding design. If you haven't developed a brand yet, our team of strategists and designers can put our branding services to work. If you already have one, we'll use it as our project blueprint.
Less is really more.
Our goal is to build upon the beauty of your space, not diminish it with an abundance of signs. If we're brought in early on, we can develop an integrated wayfinding system that leverages other architectural elements like landmarks, artwork, lighting, landscaping, and sound to support users' navigational needs.
Leave sign stuff to us.
Sign fabrication, installation, and code compliance can be a real headache, involving third parties and long timelines. Our experienced sign nerds can take those nuisances off of your plate.
This isn't our first architectural rodeo.
We've worked alongside architects to develop wayfinding for some of the most notable facilities in our region – Progressive Field, Cuyahoga County headquarters, the Hilton Downtown Cleveland Hotel, and Heinen's grocery stores, to name a few.
You'll have a go-to person.
We won't make you communicate with multiple people to get the job done. You'll have one go-to project manager who understands the architectural design process and serves as your main point of contact for anything and everything you need.
We make work fun.
Believe it or not, we actually enjoy the work we do. We believe the best ideas happen just as easily over laughs and libations as they do in a conference room.
We're invested in your success.
Like you, we believe in the power of places. Our branding and wayfinding solutions are designed to support your vision and spark the excitement, pride, investment, and vitality we're all in this business for.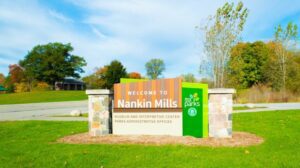 Whether you want to stretch your legs after being cooped up in…
Read More >>