What to Expect When Planning
Setting You Up for Success
At Guide Studio, we employ a unique methodology—we call it Design with Direction™ —creativity balanced with purpose. This process encompasses three key phases of work: Dig Down, our strategic planning phase, Build Up, our creative design phase and Move Forward, where our strategic design solutions come to life.
---
Welcome to our three-part series that provides a deeper dive into our strategic design process we call Design With Direction™. Whether we are embarking on the development of a new brand or a signage and wayfinding program, this methodology ensures that we are dotting our "i's" and crossing our "t's" throughout the project to deliver the most effective visual communication solutions.
This series hopes to give all our partners: clients, contractors, fabricators, etc., a clear picture of the work that is conducted behind the scenes and what to expect from each part of our strategic process.
Dig Down
We come with an open mind and a blank slate. Our first phase, affectionately referred to as the Dig Down Phase, is where we seek to understand our client's unique project challenge and develop strategies that will lead us to the best solution. In this phase we "dig down" to discover…we are spending time with your team, their stakeholders and experiencing their place through the lens of a visitor.

Our Philosophy
We believe our client partners and their stakeholders are the experts of their place or organization and once we engage with them through discovery, we can begin to apply our expertise to help communicate their brand story or the navigational experience of their place.
That open mind and blank slate philosophy reminds us that what worked in another community or organization may not be an appropriate solution for you. It sets us up to learn, analyze and guide, but not dictate. This Phase is key to building a strong client-partner relationship. It allows your team to show-off their knowledge, pride, vision, and challenges with the understanding that we will use that expertise to build a project plan that is unique to you.
The Plan: A Framework
Once we have gained an understanding of your vision, goals and challenges, we identify appropriate planning strategies to build the project framework – the touchstone from which all design and implementation decisions will be made.
The framework clearly defines the project that will give you the most return on the investment of your time and money. It sets appropriate expectations — before we even begin to design — so that we can move forward with the best, most appropriate ways to develop, implement and maintain projects within their means. These expectations lead to the development of goals and objectives. We outline a process for appropriate check-ins to ensure that success is met and our work has supported economic vitality in some measurable way.
The framework also records the purpose behind the strategies and philosophies — (the Whys and Hows) we develop for your unique project. We believe that educating our clients on the reasons we make specific recommendations is key to their comfort in embracing these directives.
How Do You Do All That In Phase 1?
With a great engagement plan, an arsenal of discovery tools and an attitude set to fun. It's the Phase of possibilities, where no idea is bad and the right one is yet to be discovered. While it is exciting to see a brand launched, signs erected and a website deployed, the Dig Down Phase is simply — ENJOYABLE!
We are people people. We like to meet people, talk to people, experience their place through their stories, their memories and see them glow when they move through our engagement and discovery exercises with confidence and a revived passion for their city, campus or organization.
Our team loves to experience new places on our own. We enjoy getting lost and finding our way through and back; and are thrilled with discovering the hidden gems that are just waiting to be polished off and shone.

Discovery Days
If you have had the opportunity to attend one of our Discovery Workshops you know we pack in the majority of our audit, analysis and strategy work into one-or two-day visits. We are sponges during this time, but sponges with an agenda, a plan and a lot of great tools.
The process of discovery begins with our own initial research and pouring over information we may request from you such as master plans, comprehensive plans, old branding or marketing studies, economic development plans, etc. This sets us up to understand who you were, who you are now and a peek into where you want to go.
Be Your Guest
Next we come for a visit! As a place-based strategic design consultancy, our expertise is in the unique communication challenges of places. So regardless of whether we are working on your brand, wayfinding or even your website, we need to see and experience what you have to offer. This exercise consists of three types of visits: the client tour, the audit and the experience-it-on-your-own tour. We may do one of these or all of these during our Discovery Days depending on the project objective. The result — a ton of information recorded in photos, questions and, at times, mini-interviews with the residents and businesses we encounter — all crucial to informing the plan.
Engage, Engage, Engage
During these visits we carve out time for multiple engagement sessions. While we do conduct "open to the public" workshops on occasion, we have found that a curated work session with hand selected stakeholders that are already invested and ready to contribute makes the most sense for the process of Discovery.
During these sessions, we are taking participants through a series of carefully selected exercises to help inform us on specific aspects of the experience of their place. For wayfinding, we are targeting their knowledge of the best streets, hot spots and areas of confusion or challenge; for brand, we are conducting high level brainstorming of issues related to perceptions, personality and the distinct attributes of a place and its people; for web, we are seeking to understand their audiences and how they use their website to find the information that keeps them coming back. We utilize a variety of engagement tools from traditional planning, to user-experience (UX), to surveys. These sessions are fun and enlightening, not only to us, but often to our clients and stakeholders who don't often find themselves in the same room with some of their neighbors.
And Before We Go…
Once we have seen and heard it all we begin to work on your strategy while we are still with you. We find it important to at least begin to digest and organize the information we've heard while we are still visiting so that if we need to take another drive around your city or meet with a specific stakeholder for a 1-on-1 interview we can do that with ease. Often times we craft a rough DRAFT of the plan to share with our client teams before we leave so that once we are back in the office we can easily pull all the pieces of the framework together with the confidence of knowing we are on the same page.
Plan First, Design Once
The Frameworks we produce have become the key communication tool between our clients and ourselves. These documents are what help you understand the type of project you will actually invest in. They set the stage for how you will communicate your brand so we can create a visual design that supports that story. They tell us what types and quantity of signs you need for your place so we can build you a budget. They also present the website architecture so we have guidance on content creation and programming. We plan before we design because we believe in Design With Direction. The framework is the true picture of what you need to get a project done and done right.
Raising the Funds
For our clients that may not have the funds ready to invest in a fully implemented project, these frameworks are a valuable tool for communicating the details to those who may want to invest in this work. When seeking funding from others, you need to present details, parameters and expectations. Many of our frameworks help break down large projects into manageable pieces that can be implemented over a period of time versus all at once. As visual communicators we make these documents appealing and easy to understand so they can be used as fund raising tools or grant support information. While they support the development of your projects, they can actually aid in funding them as well.
Start Here for Succcess
We are often approached to help with a wayfinding issue or to create a new identity. However, without knowing how big that issue is or whether your current brand has enough behind it to create that identity it is difficult for us to propose a project, let alone complete it. All problems require some degree of analysis or diagnosis to determine the correct course of action.
We require that all first engagements at least begin with a Dig Down. Not only will your investment for building the plan be significantly less than what it will cost to design, develop and implement the entire project, you will also gain accurate information for what you will actually need for a successful project.
In the end, both parties will know how to forge ahead with the project — with all expectations on the table — how long it will take, who needs to be involved, what it will cost, and how it will be implemented. The Dig Down Phase ensures your investment is solid and that the return can be measured.
Now for the Pretty Pictures
Once the foundation for your project is laid with a solid plan and a framework for success, then the creative fun begins. In the Build Up Phase We connect strategy to design. This is where we apply all that we learned in the Dig Down Phase and develop designs that address the opportunities and challenges of your place with effective visual communication solutions.

Related Case Study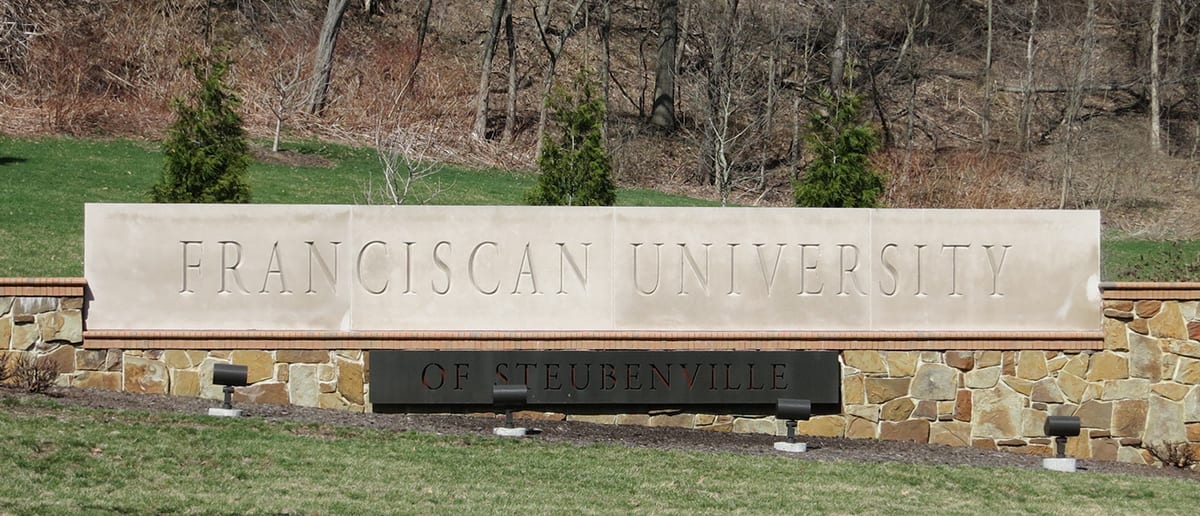 Franciscan University of Steubenville is a private, Catholic university tucked away in a picturesque small town located along the Ohio…