What To Expect When Designing
Understanding the Process of Design
At Guide Studio, we employ a unique methodology—we call it Design with Direction™ —creativity balanced with purpose. This process encompasses three key phases of work: DigDown, our strategic planning phase, BuildUp, our creative design phase and MoveForward, where our strategic design solutions come to life.
---
Welcome to our three-part series that provides a deeper dive into our strategic design process we call Design With Direction™. Whether we are embarking on the development of a new brand or a signage and wayfinding program, this methodology ensures that we are dotting our "i's" and crossing our "t's" throughout the project to deliver the most effective visual communication solutions.
This series hopes to give all our partners: clients, contractors, fabricators, etc., a clear picture of the work that is conducted behind the scenes and what to expect from each part of our strategic process.
Build up
We connect strategy to design. Our second phase is often the most anticipated. . . by just about everyone. The Build Up Phase is where the visual magic happens. It's where we take the wayfinding objectives, brand platforms and website strategies we have developed in the Dig Down Phase and create purposeful, authentic visual communication design.
Our main goal in this phase is to develop design solutions that convey appropriate information at appropriate times, build credibility for the clients and places we serve and create connections between the user and the place — leading to a higher level of attraction, loyalty or advocacy that results in increased economic returns.
Strategies developed in our Dig Down Phase address the issues and challenges unique to each project. Connecting your specific strategy to design is what will set the resulting project solution apart.
More Than Just a Pretty Picture
Since our mantra is Design with Direction™, the expectation is that our visual solutions are both well designed and supportive of the purpose behind the strategies we establish with our clients — they're more than just a pretty picture.
We understand that this is your place, your business, your unique communication challenge, your authentic brand, and therefore our guiding principle is to remain "ego free." The solutions we create should be reflective of your organization, your city, your place, and not a style or aesthetic that is the desire and fancy of the designer.
Design is a Process
We develop several types of design solutions for our clients. Brand identity and branded communications utilize our training and experience as traditional graphic designers; website design requires us to tap into our expertise and understanding of the digital realm and environmental graphics and signage design employs a focus in spatial and contextual design.
To develop visual communications, the design process starts off with the generation of ideas (Concept), moves into the selection and refinement of ideas (Development) and is then finalized into some type of documentation or production file. The traditional graphic design and web design process has many similarities, taking you through rounds of application, revision and refinement of design elements.However, the environmental graphic design (EGD) process may resemble something closer to architectural design and contains different levels of design, development and documentation than you would typically encounter from graphic
or web design.
The Levels of Design
Environmental Graphic Design may be the one type of design that many of our clients have had the least amount of experience. For this reason, we will outline what to expect from the various levels of the design development process for EGD.
Environmental Graphic Design employs a four-step development process: Conceptual Design, Schematic Design, Design Development and Design Intent/Documentation. Since each step builds off of the previous step, it is important to know how far to take drawings to ensure that each convergent step in the process is meeting the appropriate objective.
Conceptual Design
This first step in the design process is all about ideas and possibilities. It is the first time our clients will see ideas in visual form during the course of the project. We focus on presenting collective themes and inspiration but not in a way that makes our clients feel as if the design has been completed without any input.
Conceptual Design utilizes hand sketches and loose renderings, imagery, contextual photos to demonstrate placement and scale, structure, materials and color palettes. While drawings will be presented to a scale, you won't see a lot of details and dimensions at this time. The end game is to have our clients select a conceptual design theme that they would like to see moved further into development.
Schematic Design
Schematic design is the first step in design development. We begin to determine how a design theme will play out within a system of sign types or elements. These drawings are developed as computer-generated illustrations and are drawn to scale with general sizes and dimensions for primary elements. Our clients will begin to see how color will be explored in the designs as well as more specific suggestions for materials. Details such as dimensionality and design in the round are explored in Schematic Design, for instance how the back of the sign is treated and how an element might be constructed.
The goal for this step is to obtain the client's approval on the design direction now that it has been vetted and explored with more detail.
Breaking the Rules
There are times when we may not follow the full four-step process. Sometimes we are approached to expand the design of an existing program or ideas and concepts may have already been generated by others. In these cases, we will often start in Schematic Design and bypass concepts if the client doesn't require completely new ideas to be considered.
In other cases we may end with Schematic Design. We often engage in Design-Build projects which have us bringing our fabrication partners to the table much earlier. If this is the desired project delivery method, we will develop the project to a Schematic Design level and have our partners provide project costs estimates. As part of the design team, the fabrication partner will work with us to take the designs through the appropriate levels of development for decision-making and construction.
Design Development
In essence, Design Development is the last phase in the client's design decision-making process. Now that Schematic Design has given us a broader view for how the design will be used, this step is about developing the details that really make the design work.
A variety of drawings are shared during Design Development. Elevations, top views and side views are presented to ensure that the client understands how the design will look from all sides. Construction details and installation recommendations are presented as well as final selections for color, materials and finishes.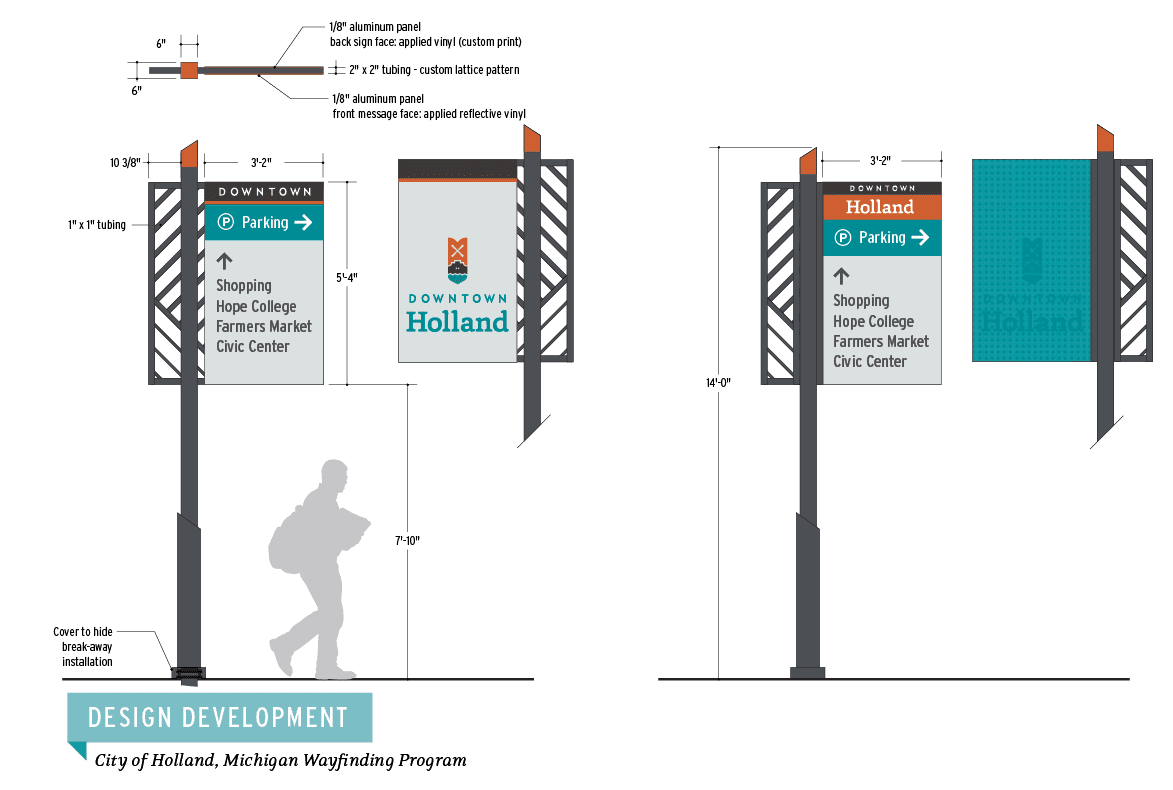 For projects that require formal reviews by Boards, Councils or Government Agencies, Design Development has the level of detail needed to communicate the intent of the design. At the conclusion of this step, all major design decisions that are required of the client should be made.
Design Intent/Documentation
In this step, the communication focus shifts. In Conceptual Design through Design Development, we are presenting levels of design that will help the client make decisions to apply to the final solution. Once those decisions have been made, it is time to document them so the project can be built.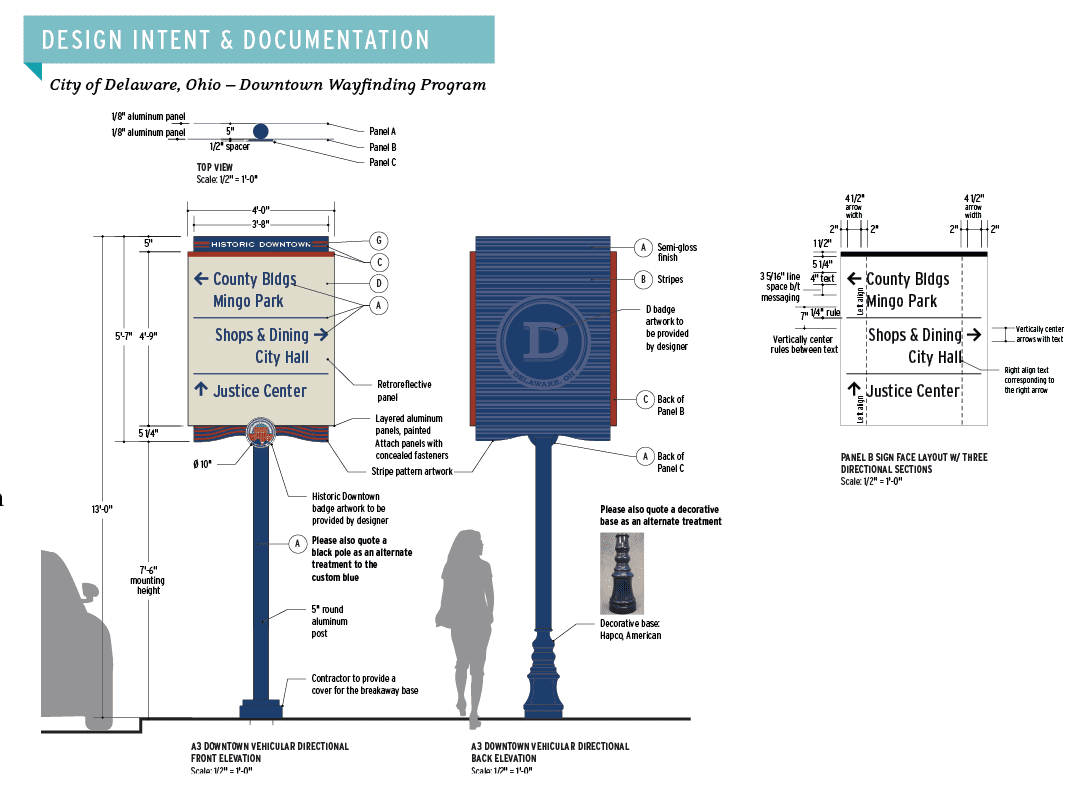 Design Intent drawings are instructional drawings for sign fabricators. They provide all the appropriate details and specifications for how we want a sign or program built and installed. A sign fabricator should be able to provide a clear and honest pricing proposal and understand how to construct from these drawings. However, Design Intent drawings produced by design consultants are not considered Shop or Construction Drawings. These types of drawings are only created by sign fabricators.
Documentation is the act of compiling all the information necessary for a fabricator to build a sign program. Some projects are very large and complex. Message Schedules and Location Plans along with Performance Specifications are combined with the Design Intent drawings to ensure that all aspects of the project are communicated appropriately.
Let's Get This Built
The process of design concluding with the documentation is all in preparation for the Move Forward Phase or Implementation. It is an exciting time in the process of the project where your brand is launched, your signs go in the ground and your website is deployed. It is critical that the process of planning, design and development has been followed, decisions have been made and project documentation is clear because this work is passed on to an entirely new member of the project team—a sign fabricator, a printer or perhaps a web developer.
The Method to our Madness
As we conclude our "Expectations" series that presented our three-phase Methodology — Design With Direction™, it would be inaccurate to decree one Phase more important than the other. Each of our three phases hold value. When combined together, the process ensures that success of the project is met.
Whether you are familiar with the phases of design or not, we have created, practiced and established a nuanced approach to guide and empower us as strategists and designers; but it is also our responsibility to lead you (our clients) through this process so by the time we have completed the project you feel as if you are empowered to champion the solutions we have created for you.

Related Case Study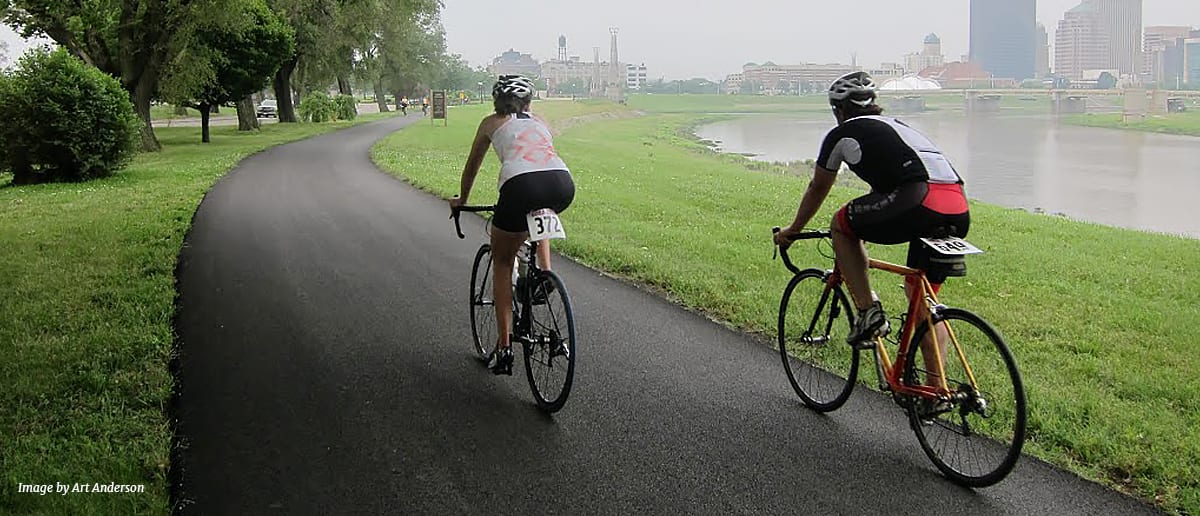 The Great Miami River corridor is a series of interconnected waterways and trails. While the corridor represents strong opportunities for…