Ugly Parking Garages: A thing of the past
Parking garages have been in need of a rebranding since, well, the beginning of their time. That may sound harsh, but parking garages have a bad rap for good reason. These cold, cage-like structures are a typical backdrop for drug deals and blackmail in police dramas and suspenseful films. But most people can attest to their own personal experiences that make parking garages unpopular eyesores.
---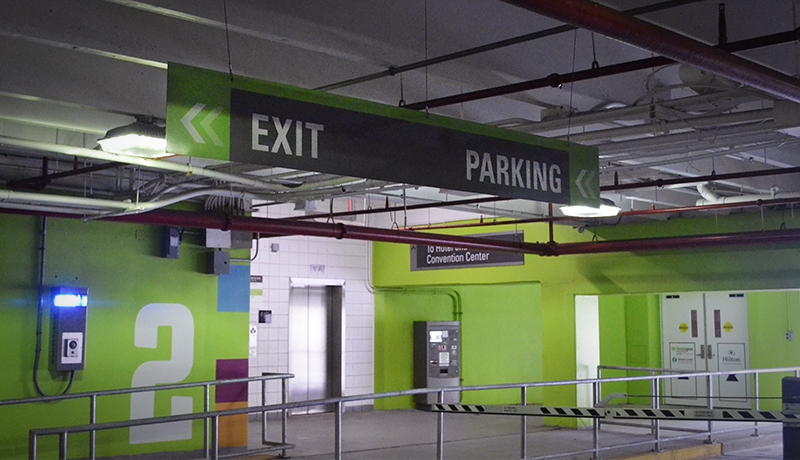 Anyone who has driven through a city has experienced the frustrations of parking garages circling around and around to find the right spot, squeezing in between the narrow lines of a space without bumping another car, sounding your alarm so you can find your car when you're ready to leave, digging into your pockets for quarters and cash to pay the attendant, or negotiating a crinkly bill with a self-pay station.
They're also unattractive, lacking the charm, brightness and decorative features that are found inside and outside of many of the destinations they service.
If this wasn't all bad enough, they feel downright creepy, like danger is around the corner (thanks, scary movies).
Reinventing the parking experience
While most parking garages are valued for utility instead of aesthetic, we think it's about time to hit the reset button. Yes, they need to be functional, but they can be contributing members of society too, playing an important role in urban experience.
We're not alone in our thinking. The International Parking Institute has advocated for more beautiful and sustainable parking garages for some time. Other cities and businesses are catching onto this movement as well, applying unique, context-based design to their parking garages. For example, Santa Monica Civic Center Parking Garage embodies the city's commitment to sustainability with its LEED-certification and bright colored panels that generate electricity. Kansas City Library Garage makes a visual statement, resembling a giant bookshelf full of classic literature. Talk about a way to rewrite the brand narrative, not only for the garage, but the library too.
Although these two examples are pretty extreme in terms of the design measures taken to transform the parking experience from bad to great, the payoffs can be huge. Still, there are simpler measures that can be taken to ensure a better experience for the user and a better impression for your community.
Imagine what better parking garages could do for the perceptions and attitudes toward your own place. If you're considering some improvements, here's our take on the simple, yet effective, design principles for better parking garages:
1. Consider users first and foremost. Before making drastic changes, consider who the majority of your users are and what information they need throughout their parking experience. Good questions to ask yourself include:
Who is parking here throughout the day and evening?
Where are they coming from?
What information do they need to park efficiently and effectively in my garage?
Where are they going after they park? (they're most likely going to places nearby if they parked there)
Where are they going when they're ready to leave?
A wayfinding consultant can be a great resource to help you discover your audience and develop a design strategy that aligns with their challenges and needs.
2. Keep the wayfinding program simple and navigation-focused. When you're late for a meeting or trying to get home, you want to find the quickest ways in and out of the garage.
Signage within the garage should have as few words as possible, focusing on helping busy people navigate to wherever they need to go next, including entrances, exits, elevators, stairs, the convention center, nearby venues, etc.
3. Add some pops of color – Parking garages have kept grey concrete in business for a long time, but they're ready for a new look. A focus on color and large, appealing graphics can transform the user experience, making people feel safe and even interested and energized. Wayfinding signs are another opportunity to add some pops of color and character to an otherwise drab interior.
We recently partnered with an architectural firm to update the wayfinding within downtown Cleveland's Huntington Park Garage. Each level of the garage received a designated color from a bright color palette so people could recall where their vehicles were located more easily.
4. Let there be light. Why are parking garages always so dark? The lack of lighting adds anxiety to the experience, especially at night. Brightening garages up with lights on the ceilings and walls will not only make people feel safe, but it will draw their attention toward important information.
To determine where lights are needed, consider what types of visual tasks people need to do as they're navigating around. In most garages, drivers must be able to see right in front of them to maneuver their cars through aisles and into spaces. Pedestrians need to be able to see cars, signs and other people.
In addition to adding lights, important wayfinding signage text should be reflective. People are often scatterbrained in garages, watching out for other cars and pedestrians, and thinking about their next activity, so important signage needs to POP.
You'd be surprised at how simple signs, color and lighting can transform a painful parking experience into a pleasant one.
Trust us, your visitors will thank you.
Related Content
If you manage, plan or design for large, complex, campuses such as a College or University, Hospital, or Corporate Office Park or a system of public places such as a Parks or Trails — this webinar is for you…
---
In our markets – places with people-traffic – a navigational app may seem like a practical wayfinding strategy or the on-trend thing to do. In terms of wayfinding, custom navigational apps are more of a buzzword than an actual strategy…