Rolling Out Your New Civic Brand
Why Communities Need Purpose-Driven Brand
If you've recently gone through a civic rebranding or are about to embark on the journey, the process doesn't end with the design team handing over your new logo and brand elements (hopefully). In fact, you're really just getting started.
---
So you have a New Brand—Now What?
Some communities make the mistake of cutting the process short: simply add a new logo to signage, website, brochures, etc. and poof—they have a new brand and their work is done. It's not quite that simple.
There's no one-size-fits-all solution for building and launching a new brand because every community has different needs, financial realities and objectives. And if you're developing a brand that's really going to work for you, drive economic growth and help you create positive experiences in your community, your branding efforts will require some additional time, patience and thought. Simply updating marketing materials and going on a one-time promotional blitz will only cause people to slide back into the same old mentality prior to launch.
If you aspire toward a powerful civic brand, it's wise to prepare for the journey that you're about to embark on. From our experience, there are a variety of forgotten or unanticipated considerations that can result in additional costs and skepticism among community members. Whether you have developed a new brand or are considering going through the process, take a look at this guide on three areas that are often overlooked during brand launch, along with some examples of how other communities turned those challenges into advantages.
Creating a Family of Logos
Some communities develop new brands that can support a single logo. However, many others are hesitant to forego seals and icons that are significant to community members. The majority of place-based brands represent a myriad of experiences, landmarks, amenities and services, and it's difficult for people to agree on one brand logo or mark to encompass it all. The good news is that you can still carry some of this "baggage" with you without forgoing a new a new, aspirational brand that paves the path for the future.
Many communities develop a "family of logos." Within the family, you may have a series of marks that roll up under one central brand identity. The family of logos will work together visually so residents and visitors make the right connections and associations. This approach helps communities adhere to a cohesive brand and still pay tribute to the many factions of the community. Not only does the family of logos help you express the relationship between your place or community brand and other departments, places or neighborhoods within the community, but it also simplifies decision-making around which identity to use for certain areas, initiatives or events.
The City of Delaware is a good example of how a family of logos can support a community. In need of wayfinding and signage, City of Delaware quickly understood that they couldn't create the signage they needed until they addressed a core problem with their brand: five distinct and separate logos used inconsistently. Which logo do you use on signage? What does each one stand for and will it make sense to residents and visitors?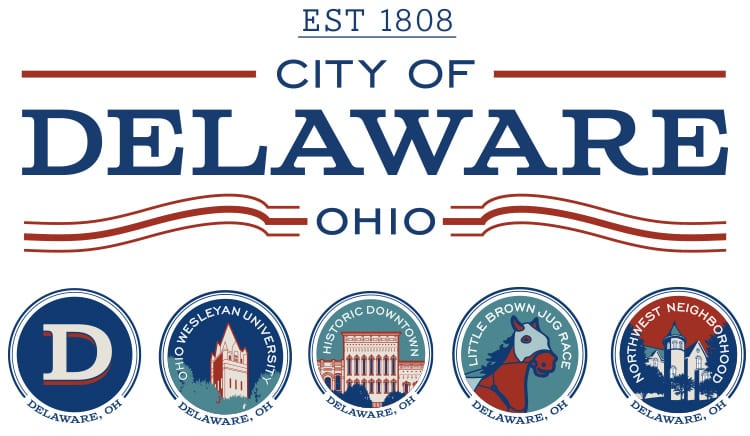 "Before creating signage, we needed to develop a consistent visual brand that would guide our future communications strategy," said Lee Yoakum, community affairs coordinator for the City of Delaware. "We wanted to pay homage to the integrity and history of our original 1970s-era logo, but give it a fresh look that would bring forth our modern characteristics."
With an authentic downtown area plus a variety of well-established neighborhoods, education institutions and events, City of Delaware's brand steering committee had difficulty settling on one visual design that would represent all of the areas that were a source of pride for the community. The stalemate gave rise to a practical and innovative solution: enhance the foundational logo and compliment it with "traditions badges" to represent departments, neighborhoods and events that are unique to the city. The badges are tied together with a common style, color palette and font, and they can be utilized across wayfinding signage, the community website and other marketing materials.

"We didn't set out to create an entire palette of badges, but I think it tells a very sophisticated story about our community," said Yoakum. "We have so much to be proud of here and these badges give recognition to the things that make us unique. It has been very cool to see all of these different elements come to life across our signage, brochures, maps and even service vehicles."
While the badges offer an opportunity to highlight special parts of communities, guidelines are necessary to prevent badge overload.
"Brand launch was extremely exciting for all of our stakeholders, but we started to deal with the challenge of every department wanting their own badge," explains Yoakum. "We had to be extremely judicious with badges to prevent the community from being overpopulated with them, which would decrease their positive impact."
There are a lot of considerations that go into this type of branding decision. Practical considerations like budget, resources and objectives influence the choice. And while many communities may prefer a robust palette of brand marks, it's not always the best solution.
For example, the City of South Euclid was attached to their original, historic city seal, yet community leaders desired a new brand platform that would provide them with a framework for making decisions about communications, design and experiences. Considering their objectives and limited resources, they resolved to create one logo to represent their brand for a simple, clear and consistent message/visual. (And they ended up keeping the old seal, reserved only for official business documents…a nod to the past!)
Creating an entire family of logos takes time and can be costly, plus it's not the right solution for every community. Ultimately, the most important thing is that your brand works for you. Whether you have one logo or a main logo with supporting marks, they should foster recognition and a sense of place among your constituents and visitors.
Asset Development
Once you've developed the look and feel of your brand, you need to determine how it will expand across your entire asset library, including gateway signage, service vehicles, websites, advertising and promotions to name a few.
During the asset development phase, your first step should be an audit of all branded materials with the help of your brand team, colleagues or committee. As you're doing this, ask yourself: Is this piece effective? Does it align with our new set of objectives?

Asset development can be the most overwhelming aspect of the brand process because you're going to have the desire to rebrand everything, but budget may dictate otherwise. Your brand exists throughout your entire city, and you have to prioritize based on objectives. For example, if you're aiming to increase revenue through tourism, wayfinding signage may be a priority.
A new mayor and change of administration drove the City of North Olmsted's desire for new signage, but the city soon discovered that signs weren't the only items that needed to be included on their asset development list.
"We began the new brand process with solely signage in mind, but we realized that our brand is more than signs—it is everything in our community," said Kim Wenger, Director of Planning and Development at the City of North Olmsted. "We became more strategic about the experience we wanted to deliver, and the new brand soon became a vehicle for change and consistency across everything that we are responsible for."
While gateway and wayfinding signage were priorities, the City of North Olmsted decided that they wanted to update additional signage across all public parks, shopping areas and a local golf course to create a united identity across all areas. And with a bicentennial anniversary and events around the corner, the city even added merchandise and stationery to the asset list.
"Once we had an improved and consistent visual brand, everyone wanted to get their hands on it," said Wenger. "Because of the enthusiasm, we had the support we needed to expanded the brand much farther than we originally thought we would."
Despite going bigger than planned with their asset list, there were some items that the City of North Olmsted had to put on the back burner, including highway interchange signage, due to financial and regulatory constraints. Fortunately, the brand process can keep going.
"Some things will take more time, but it's fun to see the brand come to life across a variety of areas already and know there's still more to come," said Wenger.
The Big Reveal: Brand launch and Roll Out
So you have a new brand, including messaging, logo(s), color palettes, fonts, and assets—what's left for you to do? Now that you've done all of the heavy lifting, it's time for the fun part: launch and rollout.
The launch and rollout phases are essential to making the brand work for you, and they are opportunities that simply cannot be missed. While launch is focused on communicating the new brand to your audience, rollout is the process by which you implement the brand resources. Together, these phases open a dialogue with your stakeholders and make the brand meaningful and real to the rest of the community.
The launch phase focuses on communication, communication and—you guessed it—more communication. Any time you make significant changes to your brand, you need to justify why you've made them and tell the story behind the discovery and consideration of the new brand identity. People are emotional about the communities that they live, work and play in, and they likely already have a connection to the brand that's already in place—whether they realize it or not. By educating community members on brand rationale, and even giving them the chance to participate in how the brand gets rolled out throughout the community, you will invoke positive associations and inspire their support.
So how exactly do you communicate the new brand? Some communities hold a town hall meeting, while others may leverage local events to unveil a new gateway sign or hand out branded merchandise. There's more than one way to unveil a new brand, but launch doesn't always have to be a one-and-done, big bang event. Many of the decisions depend on your budget and objectives.

Some communities conduct a measured launch over a period of time, starting with a press release or letter to key stakeholders followed by a systematic launch to other community members before changes start to appear across the website, signage, social media and more. No matter what you decide to do, you must ensure that you're reaching the right people with the right message at the right time before any big transitions are made. The community is likely to react to a new brand and your communication is the key to managing their reactions for a smooth welcomed transition.
Do Your Brand Justice
A new brand demands that your actions meet your messages. A thoughtful and successful brand should be your roadmap, guiding all of your plans and communications. Given its importance, don't take shortcuts when you're in the home stretch of rolling out the new brand. You want to make sure that every department, system and procedure is congruent with your new identity; otherwise your audience will experience inconsistencies that can impact their attitudes about your community. You've spent all of this time developing a new brand—now it's time to do it justice.
Was this helpful? We at Guide Studio believe in practical marketing and brands that work for you—like a member of your marketing team—always progressing you closer to your goals. Learn more about how to make your brand work for you in our position paper "Start with Purpose: Why Communities Need Purpose-Driven Brand."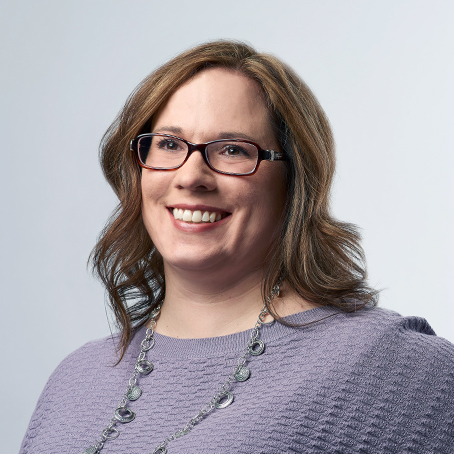 Cathy Fromet
Managing Principal
Related Case Study
The City of Delaware is a unique community, including farmland, small town charm and college town energy. The downtown area…