Public Art as Wayfinding
We often talk about the connection between wayfinding and branding, and how the best wayfinding transcends navigation to create a stronger sense of place. Keeping in mind the importance of brand in signalling everything that makes your organization special, where does public art fit into the mix?
Before delving into this question, let's clarify a few things…
What is public art?
As the name suggests, public art is a work of art or design created specifically for public display rather than within a gallery, museum, or privately owned place. Installations vary and can be large or small-scale, wall-mounted or freestanding, sculptural or two dimensional, and ideally foster interaction that positively transforms the places in which we live, work, or visit. We often see these works of art outdoors in public spaces where all can see them.
The iconic Cloud Gate in Chicago's Millennium Park is a good example. Affectionately nicknamed "The Bean," the large public sculpture – comprised of 168 massive stainless steel plates – draws local and out-of-town tourists for a memorable (and sharable) selfie as one of Chicago's most well known destinations.
In Guide's hometown, Cleveland, we have the "Free Stamp" – a large outdoor installation commissioned by the Sohio Oil Company in 1985. The distinctive sculpture is a Cleveland landmark, capturing an artistic sensibility as well as a nod to the city's past. Practically speaking, it's also a wayfinding tool that helps people provide direction, orient themselves in the downtown area, or serve as a meeting location.
Is signage public art?
Signage is its own form of art (or so we like to think it is). Signs can be used to identify buildings, help people navigate by car or on foot, and sometimes they're simply for placemaking and brand building.
For example, the popular "I amsterdam" sign played several roles for the city. Initially, this started out as part of a brand and marketing campaign, but it also served as a wayfinding tool and a public art attraction that drew tourists locally and from around the globe.
That said, not all public art is created equal. Installations commissioned to famous artists are not the same as three-dimensional signage of a city's name. There's no comparison really, but there is a connection and overlap in purpose: to highlight the character of a place, speak to its uniqueness, and enhance the overall visitor experience.
"Stay a while"
Public art is not just an aesthetic upgrade, or a tool for wayfinding – it also invites people to stay a while. Plazas, parks, street corners and other high-volume areas are good bets for getting your public art noticed, enticing folks to sit and enjoy the view, explore the artwork, or take pictures.
Here in Cleveland, we take pride in the large three-dimensional Cleveland script signs strategically located in places that have a spectacular view of the city as a backdrop. These popular destinations encourage people to not only go there for a quick selfie, but to hang out a while and explore the area.
Public art can also serve as a gateway, providing visitors with a welcoming (branded) message, look and feel. We recently worked with Stamford, Connecticut on their wayfinding program, including a six-foot-tall multicolored sign bearing the city's name. The sign was designed for the Stamford transit center to catch the eye of commuters from New York or other neighboring cities so they know when they're entering or leaving the city. The sign is informational, but it's also a bold declaration that activates the space and illustrates the city's vibrancy and connectivity.
MidTown Cleveland – a neighborhood located between downtown and University Circle – engaged Guide Studio to create its wayfinding system. As part of the system, we designed a three-dimensional sign inspired by their new logo, complete with a mesh alphabet representing a crucial facet of the MidTown brand. Upon completion, MidTown's new sign will illustrate the community's dynamism, accessibility, and growth.
When we suggest art-centric signage, it's usually within the conceptual phase of a larger wayfinding system. In Stamford, discussions revolved around pedestrian activity at the transit center as well as a nearby park. We designed traditional directional signs pointing people to key locations, reserving the bolder public-art-inspired signage for branding and placemaking purposes.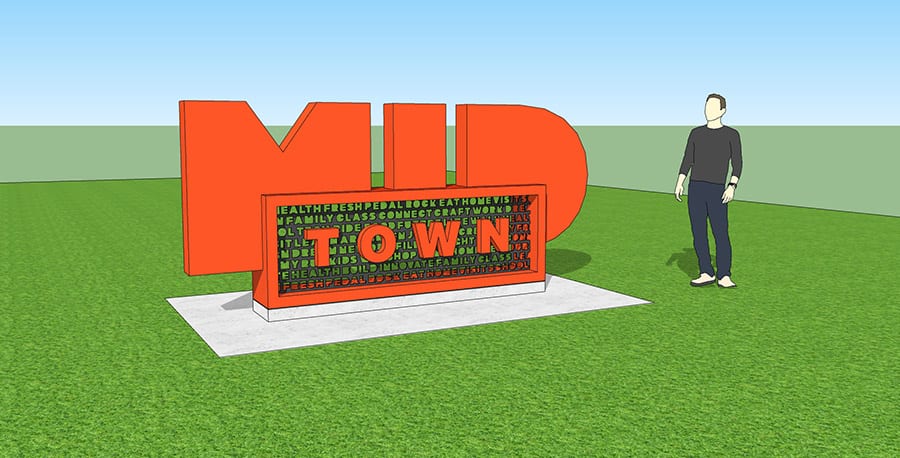 The sum is greater
Over time, public art serves as an associative icon that reminds people of their experiences in a place and the feelings that go along with it. Wayfinding that includes public art is a placemaking powerhouse, merging function and artistic ingenuity to take the identity of place to new heights. The duo introduces color and life to a location, while defining the space and leveraging landmarks to create a frame of reference for visitors.
---
Interested in telling your community's story? We can help! Get in touch with us.
Related Content
When we reminisce on a visit, a trip, or any place-based experience, we often think of the time that we spent at the physical location. But a visitor's wayfinding expedition often begins at home, perusing the website for their destination and getting the "lay of the land."