How to Translate Brands for Signage
Despite demand for digital everything, physical signs have held their position as one of the most important brand tools. From brick-and-mortar businesses and large corporations to cities and parks, every organization needs signage. Not only is it the face of your organization, but it works for you 24 hours a day, seven days a week, and compels people to connect with your establishment.
---
Just look at how big brands like McDonald's, Apple, and Nike have capitalized on signs to influence their customers, both consciously and subconsciously. Can you go on a single roadtrip without coming across McDonald's infamous golden arches? Probably not. And most people can spot an Apple store from a mile away by the iconic white apple on the store's front.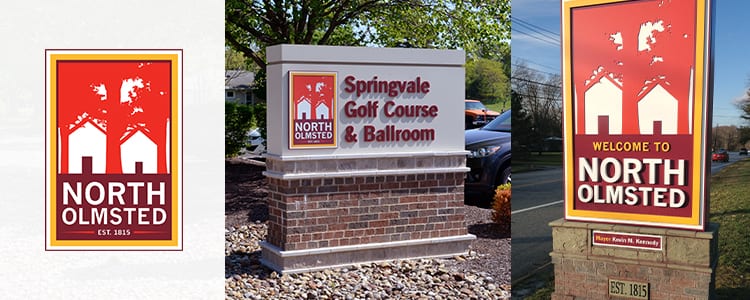 Given their tremendous power, signs deserve more consideration throughout the brand development process. Like your website or marketing collateral, they're an extension of your brand personality and require the same attention and effort. Even if you don't have the reach and resources of a mega-brand like McDonalds, you can still create great signs that people identify and follow.
The key is to create a brand that leads the way and translates well into the physical environment.
Build a Brand Worth Following
First things first, whether you're in the process of developing a new brand or working with an existing one for your sign program, you need to make sure it reflects who you are and your core values. Furthermore, it needs to be visually appealing. Important elements like your logo, color palette and fonts express your individuality, distinguish you from competitors and set the stage for long-term recognition.
One of the biggest mistakes we come across is when organizations invest so much time in a new brand only to find that translates poorly throughout their physical environments. Just because a logo looks great on paper doesn't mean it works on a three-dimensional sign. A brand logo that contains too many intricate details, fine script or symbols can be difficult to fabricate, and ultimately, too difficult for end users to comprehend when they're on the move. 

If you're looking to get ahead of these potential issues, we believe it's important to work with a strategic consultant who understands both branding and design. Not only can they deliver a well-rounded design, but they can bring everything together in working order for you. 

Whether you use a professional or decide to DIY your brand, these suggestions may come in handy if you plan to translate your brand into signage:
1. Understand your goals. Before diving right into design, ask questions and be clear about the strategic goals of your sign program. What type of place do you need signs for? Who is the audience? What are the key touchpoints? What do the signs need to communicate? How much control do you have over sign placement? The feedback you provide can influence your entire brand strategy.
2. Create a flexible identity. There's a lot to consider when developing a brand identity. Things like color, contrast, spacing, font type and size may seem like minor details, but they actually make a major impact on your look and feel. For example, a logo with five colors may look beautiful, but gets very expensive when it comes to sign fabrication. 

A clean and simple design philosophy can often be the best solution, communicating your authentic brand, while translating well into various applications. Not only is it more legible, but it's easier to protect and apply to other marketing assets. With that being said, there's always opportunity to bring more flair and differentiation to your sign program. 

For example, Ohio City's wayfinding program has a full color palette, with primary and secondary colors, textures and patterns. When you tour the neighborhood, you come across bold red, white and blue signs with stars and/or stripes to reflect their rich history and character.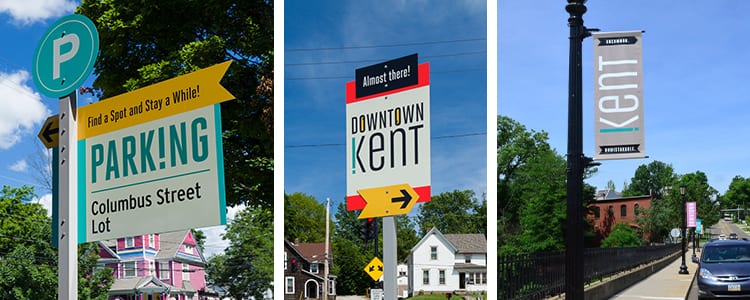 The City of Kent went a different direction and really embraced their eclectic character through dynamic colors and messages. For example, in addition to traditional directional signage, we leveraged underutilized street poles for playful signs and messaging that read things like "You are Beautiful!" and "High Five a Stranger," highlighting their brand personality.

Ultimately, if a design consultant builds or, at the very least, understands your brand strategy, he or she is in a better position to design signs that foster positive engagement.
3. Sign materials. Some people assume that elaborate design, finishes and materials will make for the best signs, but they aren't always cost effective when you need multiple signs. A design consultant looks at your signs as an investment that need to stand the test of time. He/she can help you evaluate the best materials (wood, metal, paper, etc.) and lettering for your location and weather conditions, plus what types of signs to spend more on versus others. For instance, they will probably recommend that entryway signs or landmark signs require more spend because they're generally outdoors and highly visible.
4. Location, location, location. A good consultant not only advises you on what types of signs you need, but they are well-versed in helping you determine where they should be placed. They think through variables like goals, audience, lighting, city regulations, weather and more to ensure your signs have maximum impact.
5. Maintain brand integrity. Beyond putting all of the pieces together, a good consultant won't abandon you after your sign program is complete. They'll provide you with comprehensive guidelines to help you educate key stakeholders about how to apply your brand and signs visually and verbally. They can support, or even manage, the fabrication and installation processes. And ultimately make sure that your vision for how the signage turns out comes to life and meets your expectations.
Take the time to build a brand identity that will translate into your physical environment – it will be worth the effort. And if you're working with an existing brand identity, find a consultant who can help translate your brand into effective signage. Let your signage work for you in supporting brand recognition and a positive experience.
---
Related Content
Beyond helping people not get lost, wayfinding should be inspired by, and more connected to, a community's brand, giving people a sense of place and reinforcing its unique personality…