How to Create School Pride Using Branded Environment
The term "school spirit" often conjures up thoughts of students painting their faces red and silver and running through campus singing "Hang On Sloopy." But at the heart of it, these brazen displays of pride stem from the brand promise to which students are attracted to, participate in and eventually embody on a daily basis. School spirit really means being personally aligned and connected to your school's purpose…and sometimes enthusiastically demonstrating involvement.
---
So how can you, as a school administrator, capitalize on this natural phenomenon?
For starters, you create spaces that reinforce the meaning behind of the brand and continually keep students connected to it. Environmental graphics are a great way to shape the experience that students have on your campus, whether it is a first visit to the student union, or the umpteenth cram session in the library. As we all know, the incoming student generations are developing in an increasingly visual world with hundreds of Pinterest boards, 10-second Snapchat videos and continuous-scrolling Instagram feeds at their fingertips 24/7. Their interactions with your campus should be treated with the same psychology that designed the user-experience of their favorite apps and games.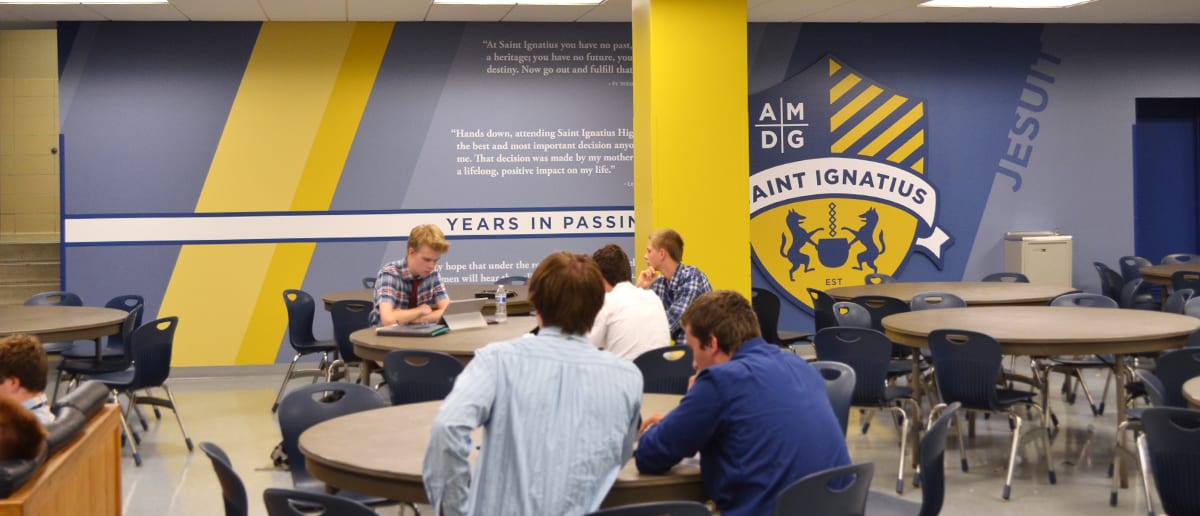 Depending on the function of your space, environmental graphics can be installed to draw attention, encourage interaction and build excitement for the school. They can even be used as subtle accents that subconsciously and peripherally support your brand. Either way, the visuals of your environment contribute to the overall experience of your users in a way that can spotlight the school, the brand and what it stands for. It's an opportunity for your brand to resonate with students and help them to feel increasingly aligned with your purpose. This is the essence of school spirit.
Not only are graphics the visual pom-poms of your campus, they also demonstrate to your students and visitors that you – the institution – are passionate about investing in an environment in which people to thrive. These graphic areas of vibrancy and energy serve as a visual reminder of your brand promise, the thread that unites the school community. They become areas of congregation, topics of conversations, highlights on campus tours and backdrops of celebrated memories. From a splash of color to a wayfinding system, or even an interpretive installation – graphics can simultaneously communicate to students the genuine interest the school has in their experience and foster an atmosphere of ownership and pride.
The physical space of your school sets a tone for your prospective audience and engages and motivates current students. A thoughtful sign program can eliminate confusion and frustration during a visit. An impressive display can communicate your history and incite pride. Even a simple flair here and there can remind a student why they chose to call your place home. With the excitement, engagement and passion that pass through the visual elements of your place, you can convert temporary students into brand advocates. proud students and alumni who will participate in your promise, champion your purpose and inspire future students most likely at a football game with your acronym slathered on their bare chest. School spirit at its finest.
Related Content
You invest a lot of time and energy into producing a new brand for your place. But once it's complete, that work is all for nothing if you don't do anything with it. So what's next…
---
Beyond helping people not get lost, wayfinding should be inspired by, and more connected to, a community's brand, giving people a sense of place and reinforcing its unique personality…