Connecting Neighborhoods Through Wayfinding
We love our hometown of Cleveland, Ohio for a lot of reasons – great people, great business opportunities, great sports, great food. We especially love the abundance of unique neighborhoods and districts to explore within the city's limits.
---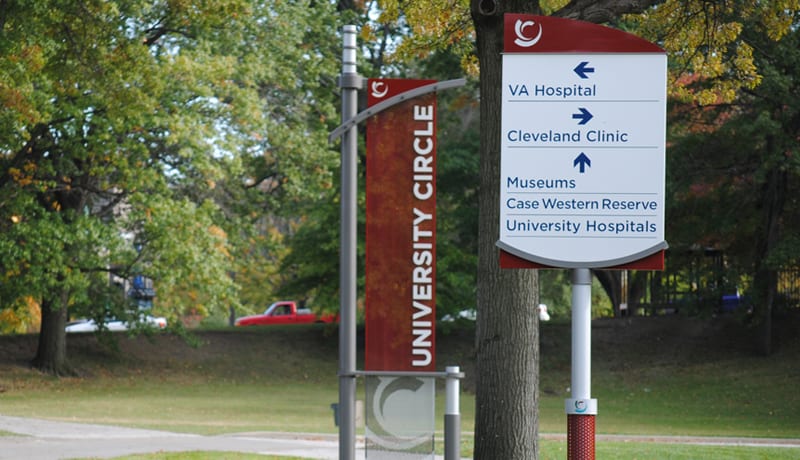 You can grab a craft beer in Ohio City, experience world-class cuisine in Tremont, then head to Gordon Square for an art gallery opening. You can catch a game in the Gateway District, go to a comedy show on East 4th Street, and finally head to the Warehouse District and The Flats for some nightlife. Or pack up the kids and go to University Circle to visit the many museums and satisfy your spaghetti craving in Little Italy. These are just a few of the places that make Cleveland special. The best part? They are all within a hop, skip and a jump of each other, yet they've sustained their own personalities through branding and wayfinding.
As wayfinding geeks, we absolutely love seeing so many neighborhoods leverage environmental graphics and signs to position themselves as a destination within a destination. However, the left sides of our brains remind us to think about the side effects. With this great energy around wayfinding comes great responsibility – particularly, the responsibility to protect the user experience.
Rise of the "city" within a city
Cleveland is no different than dozens of other big cities. When you think of places like New York City, Chicago, Boston, New Orleans and Cincinnati, to name a few, they all have neighborhoods and districts that have adopted a look and feel of their own, becoming a mini-city within a city. What would New York City be without Times Square or Chicago without Wrigleyville? Would there be a Mardi Gras without Bourbon Street?
These places have developed a story that's been written by the businesses and residents that call them "home."  Over time, they've distinguished themselves from other places with wayfinding cues – signs, landmarks, color, lighting, etc. – that support the discovery of everything they have to offer.
While we champion the implementation of wayfinding that makes a place more attractive and navigable, doing this within the silos of our own domains creates problems along the user continuum – Before, During and After the journey – that are hard for us to ignore.
It's not just about you
Cities are complex places. People need to understand what a city is about, how they should move through it and where they can find all of the really important stuff right without getting lost or asking strangers for help. Navigation needs to be intuitive.
When working with place-based organizations, we always put their users' needs at the center of our thinking. They are constantly in motion, whether by foot, bike or car, trying to get themselves from one area to the next. If the wayfinding experience during their "in between moments" is broken, the entire experience is tainted. It reflects poorly on the neighborhoods as well as the city as a whole.
A comprehensive wayfinding system can tie everything together. It takes the user continuum's Before, During and After phases into account to make connections between a city's most popular destinations, creating a more seamless experience.
In considering their own user continuums, here some important questions for cities (and individual neighborhoods) to consider:
Is it easy for people to navigate their way to a popular destination from key entry points (main roads and highways)?
Do we have maps, kiosks, guides and apps to help people get from one area to the next?
Do visitors have access to pathways and signage for highways and surrounding communities to help orient and direct them toward home?
Do we have sign standards or rules that neighborhoods and districts can easily adopt?
Taking the lead
Ownership is the biggest conundrum when it comes to a citywide wayfinding program. We believe it is the city's responsibility to initiate the discussion, but they need to bring the different players together to make the project a reality. As a group, everyone should talk over some not-so-small aspects of the process, including:
Sign standards – What sign standards are already in place, if any? What parameters do we need to establish to create consistency around our aesthetics and nomenclature?
Funding – If a decision is made to move forward with a citywide wayfinding system, who is paying for the project? Will funding come from a combination of public-private partnership, spread across multiple neighborhoods and districts, or is the city going to be 100 percent responsible?
Execution – What wayfinding or design agency should we bring in to create the program and sign standards? Who is going to fabricate and install the signs? What neighborhoods are the priorities? Are we going to take a phased approach or implement everything right away?
Maintenance and governance – Who is going to oversee and fund the upkeep of the signs? Do we have a budget for maintenance? Who is going to work with new neighborhoods or districts to ensure they adhere to the program?
It's not realistic to think you'll have the entire project mapped out after one meeting. Just like cities weren't born overnight, a citywide wayfinding system takes time, budget and resources to bring it to life. The first, and most important, step is opening up the dialogue.
Start small, think big
We love unique neighborhoods more than anyone, especially the ones within our own city, but we also think there needs to be a balance between letting everyone do their own thing and making sure we prioritize the overall user experience over design.
Wayfinding can be the catalyst, rallying everyone together around creating an enjoyable journey.
While adopting a citywide wayfinding isn't an easy undertaking, you don't have to do everything right away. Start small with an analysis of your place to determine if it's simple and understandable for the user. If you identify areas of opportunity, bring different stakeholders and discuss creating a five to ten-year plan that slowly rolls out a consistent aesthetic and language that covers the whole city without disrupting the charm and character that make the city and its destinations appealing in the first place.
Have questions about your next wayfinding initiative? Questions are free – ask us.

Related Content
When thinking about brand, the first thing that comes to mind is logo—and not without good reason. Logos are a vital visual element of brands. When you think of companies like Nike, Apple and Coca-Cola, it's hard to imagine them without their iconic symbols. But is that all that comes to mind? Many organizations think that brand starts and ends with a logo, and it's time to erase that notion…
---
If you've recently gone through a civic rebranding or are about to embark on the journey, the process doesn't end with the design team handing over your new logo and brand elements (hopefully). In fact, you're really just getting started…