New Delaware County Logo is "Impressive"
Via This Week Community News
Delaware County has tossed the rings in favor of a fresh, new logo.
The county June 29 unveiled its new logo, which features an outline of the county on a map of the state of Ohio. Blue, gold and green sections represent the county's waterways, farms and parks.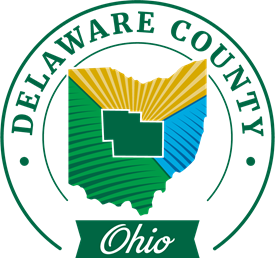 Jane Hawes, the county's communications manager, said the fact that six counties share the name "Delaware" influenced the logo's design.
"There's so many other Delaware counties in the U.S., we felt it was going to be very important to have both Ohio featured prominently and then the county itself," she said.
Hawes said Commissioner Jeff Benton's suggestion led to the words Delaware County forming a horseshoe shape in the logo.
"Obviously, equine history is a very important part of our history," she said.
Hawes said the county's various elected officials, such as the prosecutor and recorder, were allowed to add their own design touches to their offices' individual logos.
Commissioner Barb Lewis said the results of the redesign process are "really impressive."
"I love the way it can be customized to what the other elected officials would like," she said.
Commissioner Gary Merrell said he also likes the "versatility" of the logo.
The county's previous logo, which has been in use for decades, features interlocking rings bearing the names of the county's townships.
Benton said in a statement the new branding materials are a welcome change.
---
Read the full article at This Week Community News.
Related Content
You invest a lot of time and energy into producing a new brand for your place. But once it's complete, that work is all for nothing if you don't do anything with it. So what's next…
---
The new logo features an outline of the county within an outline of the state, with a tri-color background of green, blue and gold…